From the Manufacturer
Collaborate anytime, anywhere
With an easy ten-minute set up, you can now create your own private cloud storage without monthly fees. Back up multiple PC and Mac computers and protect your business-critical data in a central location that you can access anytime, anywhere.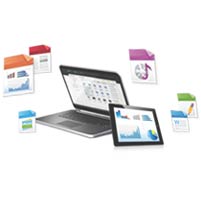 All your business data
Automatically back up multiple PC and Mac computers (4-Bay NAS works with Time Machine) including the files, programs and OS.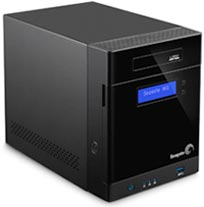 Securely backed up here
Up to 16TB of capacity to securely store everything form bank documents to flowcharts, photographs and video footage.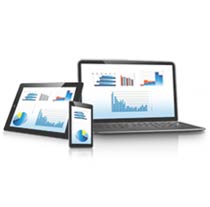 Accessible anywhere
Securely access and upload files with Internet-connected tablets, smartphones and computers.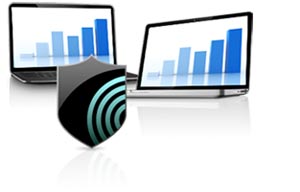 Always-on data security
Government-grade hardware encryption technology helps protect your business-critical data on the hard drive while maintaining performance.
When you manage files remotely, your data-in-flight is protected by SSL/TLS, the same technology that secures your information when banking online.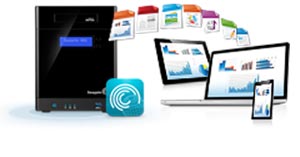 Manage files on-the-go
The free Seagate Global Access mobile app makes it easy to upload and download using iPhone, iPad, Android devices and Windows 7 Phones. You can also access and save files using Internet-connected computers, and you get an easy-to-use web interface for securely sharing large files with clients and coworkers.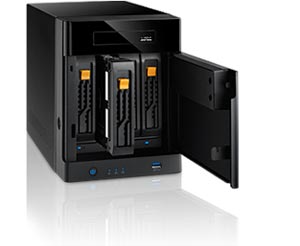 RAID-enabled for additional protection
4-Bay NAS can be easily configured in RAID 1, 5 and 10, which will automatically replicate your files on multiple drives. If a single drive fails, your business-critical data remains intact and accessible.
Individual drives are also hot-swappable, allowing you to replace or upgrade a drive without turning off the device or slowing down your business.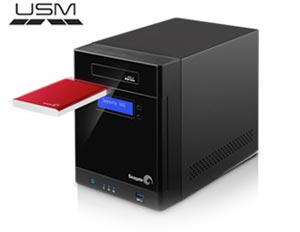 Grab your files and go
With the built-in Universal Storage Module (USM) slot you can transfer files to and from USM-compatible portable drives at incredible speeds--all at the touch of a button.
USM technology is excellent for creating cost-effective offsite backups and for quickly transferring large files brought back from the field.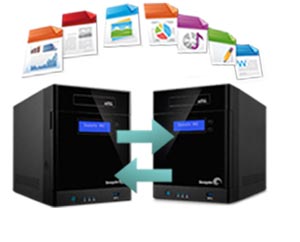 Enables NAS-to-NAS offsite backups
Purchasing a second 4-Bay NAS lets you to duplicate files and folders from one NAS to the other over the Internet, allowing for additional offsite protection against theft and natural disasters.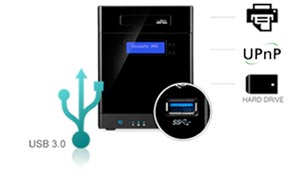 USB 3.0 for more flexibility
The built-in USB 3.0 port makes it simple to share a printer and add capacity by connecting external drives. With portable USB 3.0 drives you can even create cost-effective offsite backups by taking copies of your data to a second location.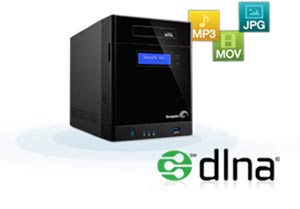 State-of-the-art media streaming
The 4-Bay NAS can stream your movies, photos and music to PC and Mac computers as well as DLNA-certified devices. Now you can enjoy your media library on Blu-ray players, game consoles, Internet TVs and more.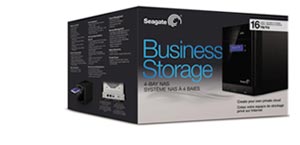 What's in the box
Seagate Business Storage 4-Bay NAS
Four preinstalled Seagate drives (the 4-Bay NAS 0TB comes without preinstalled drives)
Ethernet cable
AC power cord
DVD with Discovery Software for Mac and Windows + Backup SOftware* and System Recovery Boot for Windows
*Includes 10 licenses. Additional liceses available for purchase.
Whether you work solo or in an organization, there's a Seagate Business Storage suited to you
| Seagate Business Storage 1-Bay NAS | Seagate Business Storage 2-Bay NAS |
| --- | --- |
| | |
| The Seagate Business Storage 1-bay NAS delivers up to 4TB of storage plus advanced media streaming. This is an excellent solution for home-office work or play. | This scalable NAS solution features up to 8TB of storage in a flexible design that can grow with your small business. |