Data Recovery and Drive Replacement for Any Brand of External Storage at a Fraction of the Cost
Cupertino, CA — Seagate Technology plc (NASDAQ: STX) today debuted the new Seagate Rescue and Replace™ data protection service available on Amazon.com. This first-of-its-kind plan provides recovery services for data loss that may have been caused by physical damage, corruption or accidental deletion, and a drive replacement. Rescue and Replace is a two-year plan from Amazon.com for $29.99 or three-year plan for $39.99.
"People have come to expect warranties for their hardware, now they can have a level of protection for the data as well," said Scott Horn, vice president of marketing for Seagate. "Seagate is proud to be the first storage solution provider to extend a data recovery service to a broad consumer audience. We are excited to team up with Amazon to make this service available to their customers."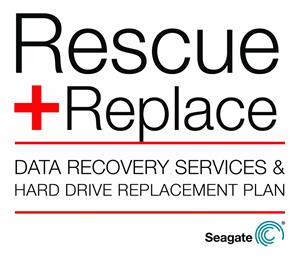 Seagate Rescue and Replace is available as a two-year plan from Amazon.com for $29.99 or three-year plan for $39.99.
The hard cost of recovering data from a damaged or corrupted drive can reach into the thousands of dollars, where highly skilled technicians must manually disassemble the drive and recover the data bit by bit. Being able to receive data recovery services and also get a replacement drive at an up-front nominal fee provides an option to avoid the high cost of data recovery services. The value of this new service can be immeasurable when it comes to items of sentimental value that cannot be replaced, such as photos and video.  
The Seagate Rescue and Replace™ service is available immediately from Amazon.com with protection and replacement for Toshiba, WD, LaCie, Seagate and other major brands of external hard drives.
About Seagate
Seagate is a worldwide leader in storage solutions. Learn more at Seagate.com. Follow Seagate on Twitter, Facebook, YouTube, Instagram and subscribe to our blog.
©2013 Seagate Technology LLC. All rights reserved. Seagate, Seagate Technology, the Wave logo, are trademarks or registered trademarks of Seagate Technology LLC or its affiliates in the United States and/or other countries. All other trademarks or registered trademarks are the property of their respective owners.