NEW YORK, NY -- Seagate Technology plc (NASDAQ: STX) today announced that the company has been named an International CES Innovations 2014 Design and Engineering Awards Honoree for its Business Storage 8-bay rackmount network attached storage solution. Seagate® Business Storage delivers centralized backup, data protection and remote access to critical information for small and medium-sized business organizations (SMBs) in capacities ranging from 4 to 32 terabytes.   
"Seagate is pleased to be honored by the CEA for outstanding design and innovation of the industry's first hot-swappable 8-bay rackmount server in a 1U form factor," said Scott Horn, vice president of global marketing for Seagate. "This project includes not only a groundbreaking hardware design but also a new proprietary NAS OS to simplify storage management and monitoring for our small business customers. This product is only the latest in a new portfolio that further strengths Seagate's commitment to the small business space."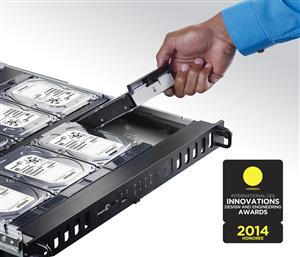 The Seagate 8-bay rackmount NAS, which boasts enterprise-class hardware inside and out, has been recognized by the CEA as an Innovations Honoree.
The 8-bay rackmount NAS boasts enterprise-class hardware inside and out making it the ideal solution for today's businesses that demand a higher level of performance and reliability for up to 250 employees. It is the flagship product for the company's growing portfolio of Business Class storage devices. Powered by Seagate's NAS OS and featuring an Intel 2.3GHz dual core processor, this network attached storage server delivers superior file transfer performance. The innovative new design of the 8-bay rackmount features eight 3.5-inch Enterprise Capacity (formerly Constellation ES.3) drives that are hot swappable for easy storage upgrades and maintenance. The system showcases a state-of-the-art fan design for effective cooling and ease of serviceability. Additionally, the redundant, swappable power supplies and dual Gigabit Ethernet connections provide that extra level of assurance that your business will stay up and running.
The prestigious Innovations Design and Engineering Awards are sponsored by the Consumer Electronics Association (CEA)®, the producer of the International CES, the global gathering place for all who thrive on the business of consumer technology, and have been recognizing achievements in product design and engineering since 1976.
The Seagate 8-bay 1U Rackmount NAS will be displayed in The Venetian at the 2014 International CES, which runs January 7-10, 2014 in Las Vegas, Nevada. Honorees will also be displayed at CES Unveiled: The Official Media Event of the International CES from 4-7 p.m. on Sunday, January 5 in South Seas Ballroom C at Mandalay Bay.
The Innovations entries are judged based on the following criteria:
Engineering qualities, based on technical specs and materials used
Aesthetic and design qualities, using photos provided
The product's intended use/function and user value
Why the product deserves the Innovations award, including specifics regarding its unique/novel features and features that consumers would find attractive
How the design and innovation of this product directly compare to other products in the market place
Products chosen as Innovations honorees reflect the innovative design and engineering of the entries. Examples may include the first time various technologies are combined in a single product or dramatic enhancements to previous product designs.
Innovations 2014 Design and Engineering honoree products are featured on CESweb.org/Innovations, which lists product categories, as well as each product name, manufacturer information, designer, description, photo and URL.
About Seagate
Seagate is a worldwide leader in storage solutions. Learn more at seagate.com. Follow Seagate on Twitter, Facebook, YouTube, Instagram and subscribe to our blog.
©2013 Seagate Technology LLC. All rights reserved. Seagate, Seagate Technology, the Wave logo, are trademarks or registered trademarks of Seagate Technology LLC or its affiliates in the United States and/or other countries. All other trademarks or registered trademarks are the property of their respective owners. When referring to drive capacity, one terabyte, or TB, equals one thousand billion bytes. Your computer's operating system may use a different standard of measurement and report a lower capacity. In addition, some of the listed capacity is used for formatting and other functions and will not be available for data storage.