- SEAGATE SEVEN™, LE DISQUE DUR LE PLUS FIN AU MONDE
- SEAGATE WIRELESS, UNE SOLUTION DE STOCKAGE DÉDIÉE AUX APPAREILS MOBILES
- SEAGATE PERSONAL CLOUD, LE FUTUR DU STOCKAGE DANS LE CLOUD POUR LES PARTICULIERS
En marge du CES de Las Vegas, Seagate annonce trois solutions alliant les technologies de stockage les plus innovantes du marché à des designs exclusifs
LAS VEGAS, NV — Seagate Technology plc (NASDAQ : STX), leader mondial des solutions de stockage, a dévoilé trois nouvelles solutions de stockage innovantes : le Seagate Seven™, le disque dur externe le plus fin au monde allié à un design singulier rappelant les tout-premiers disques durs interne 2,5 pouces, le Seagate Wireless, un disque dur portable de 500 Go spécifiquement conçu pour gérer les données stockées sur les appareils mobiles et enfin le Seagate Personal Cloud, la solution de stockage dans le cloud à destination des particuliers dans un univers complètement sécurisé.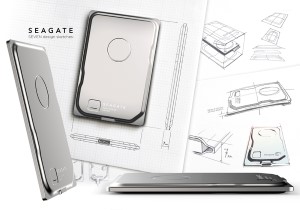 SEAGATE SEVEN
Avec une épaisseur record de 7 mm et un design qui n'est pas sans rappeler celui des disques durs internes 2,5 pouces, le nouveau disque dur externe Seagate Seven™ offre une capacité de 500 Go combinée à un design singulier. Le Seagate Seven célèbre les premiers dispositifs de stockage informatique tout en intégrant les dernières innovations en matière de stockage de données. Son boîtier haut de gamme, entièrement métallique, reprend le design distinctif d'un disque dur interne, le cœur de métier de Seagate depuis plus de 35 ans.
« Seagate fournit des solutions de stockage depuis les débuts de l'informatique moderne », a déclaré Mark Whitby, senior vice-president de Seagate Branded Group. « Le Seagate Seven a été conçu pour célébrer cet héritage tout en se tournant vers l'avenir et le futur des technologies de stockage. Nous sommes convaincus qu'il fera écho auprès de ceux qui attendent les dernières tendances en matière de design industriel, et incitera l'utilisateur à créer des expériences et souvenirs exceptionnels. »
Seagate a exploité les technologies et procédés de fabrication les plus récents du groupe pour créer le disque dur externe le plus fin au monde. Grâce au procédé d'emboutissage profond, le boîtier en acier est façonné de façon à atteindre une épaisseur minimale, tout en conservant l'intégrité structurelle nécessaire pour servir de dispositif de stockage portable. Le boîtier acier confère par ailleurs toute sa rigidité au disque, afin qu'il soit à la fois extraordinairement fin et fonctionnel. Les technologies du moteur compact utilisées dans le disque interne ont été mises au point afin d'intégrer une fonction de maniabilité Gyro extrême, dans la perspective d'une utilisation avec les tablettes et les dispositifs informatiques légers. Un véritable avantage puisque le Seagate Seven est un dispositif de stockage que les consommateurs emporteront avec eux, dans leur sac ou dans leur poche.
Prix et disponibilité :
Le Seagate Seven est un disque dur portable de 500 Go, qui sera disponible dans un grand nombre de points de vente entre mi-janvier et fin janvier, au prix de vente estimé de 129,99 euros.
Pour en savoir plus sur Seagate Seven, cliquez ici.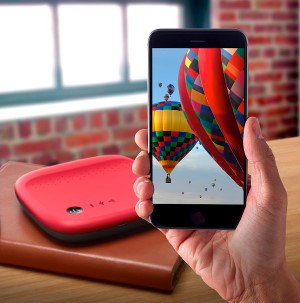 SEAGATE WIRELESS
Pionnier du stockage sans fil, Seagate Technology continue d'étendre sa gamme de solutions de stockage sans fil, avec le lancement du nouveau
Seagate® Wireless, un disque dur portable sans fil de 500 Go spécifiquement conçu pour diffuser et décharger le contenu des dispositifs mobiles. Le nouveau périphérique Seagate Wireless offre aux utilisateurs l'espace supplémentaire dont ils ont besoin pour transporter tous les contenus de leurs appareils mobiles, et limite ainsi le risque de dépasser la capacité de stockage de son smartphone ou de sa tablette. Par ailleurs, le Seagate Wireless intègre une solution permettant de diffuser ses vidéos HD préférées sur un smartphone ou une tablette Android, un iPad, un iPhone, un Kindle Fire, un ordinateur sous Windows 8 ou une tablette Windows RT.
Décliné en plusieurs couleurs vives, notamment vert citron, bleu glacier, gris ardoise, rouge vif ou encore blanc, le nouveau disque de stockage Seagate Wireless peut être coordonné à vos appareils mobiles préférés.
Grâce à sa capacité de stockage, qui permet d'emporter avec soi jusqu'à 200 films en HD, l'ennui n'est pas prêt de vous gagner, que vous soyez sur la route ou hors connexion. En libérant un espace précieux sur les tablettes et les smartphones, le Seagate Wireless devient l'accessoire indispensable de tous les appareils mobiles. Le partage de contenu est désormais placé sous le signe de la convivialité, puisque les fichiers sauvegardés peuvent être partagés avec trois appareils connectés simultanément.
« En tant que pionnier du stockage sans fil, Seagate se réjouit de l'évolution de ce segment de marché au fil des années », a déclaré Patrick Connolly, vice-président de Seagate Branded Innovation. « La dernière génération de disques sans fil Seagate étend les performances des modèles existants, tout en démocratisant le streaming sans fil. »
Le contenu sauvegardé sur le Seagate Wireless est accessible par le biais de l'application mobile gratuite Seagate Media app, compatible avec Apple iOS, Android, Kindle Fire HD, et les tablettes Windows 8. Les appareils mobiles se connectent au Seagate Wireless par le biais d'une connexion Wi-Fi créée dès la mise sous tension du disque dur. Connectez-vous simplement au disque dur en recherchant Seagate Wireless dans les réseaux Wi-Fi disponibles, à partir de n'importe quel appareil. Le disque émet son propre signal Wi-Fi, il n'est donc plus nécessaire de se trouver dans le champ d'un réseau existant.
Le disque Seagate Wireless peut en outre être utilisé pour visionner des vidéos, photos ou documents et écouter de la musique sur grand écran, par le biais de Apple Airplay, Google Chromecast, ou d'une application conçue spécifiquement pour les télévisions Samsung et LG Smart TV.
Prix et disponibilité :
Le disque Seagate Wireless sera disponible dès début février, au prix de vente estimé de 139,99 euros. L'application Seagate Media peut d'ores et déjà être téléchargée gratuitement sur tous les principaux app stores.
Pour en savoir plus sur Seagate Wireless, cliquez ici pour visionner la vidéo.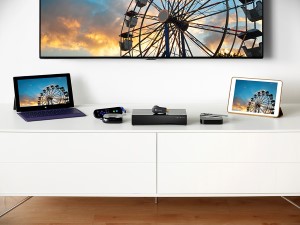 SEAGATE PERSONAL CLOUD
Seagate dévoile deux nouvelles solutions de stockage pour les particuliers, le Seagate® Personal Cloud et le Seagate® Personal Cloud 2-Bay. Le Seagate Personal Cloud offre l'accessibilité du stockage dans le cloud et l'assurance que le contenu stocké le soit de façon sécurisée à domicile. Ce qui distingue ces deux disques Personal Cloud est la facilité avec laquelle le contenu est diffusé vers les smartphones, les box TV, les tablettes, les PC ou les TV via l'application Seagate Media. Utilisé en association avec l'application de sauvegarde mobile Seagate Mobile Backup et le logiciel Dashboard, le Seagate Personal Cloud sert également de dispositif de sauvegarde central pour les PC, les Mac, les lecteurs USB, et les appareils mobiles iOS et Android.
Grâce au Seagate Personal Cloud, il n'a jamais été aussi simple de trouver, consulter et visionner ses photos, ses vidéos et sa musique sur l'appareil de son choix. Après avoir connecté le disque à un routeur sans fil, et téléchargé gratuitement l'application Seagate Media, les utilisateurs accèdent à une interface de navigation intuitive et riche, qui leur permet de lire leurs fichiers multimédia sans effort. Inégalées en termes de facilité d'emploi et de compatibilité, les applications Seagate Media fonctionnent avec les appareils suivants :
Télévisions et lecteurs Blu-ray : télévisions Smart TV LG (modèles de 2012 ou ultérieurs), télévisions Smart TV Samsung et lecteurs Blu-ray Samsung (modèles de 2012 ou ultérieurs avec SmartHub)
Lecteurs de médias en streaming : Roku, Google Chromecast, etApple TV (via Apple AirPlay)
Tablettes : iPad, Android™, Kindle, Windows 8/RT
Le Seagate Personal Cloud offre également la possibilité de diffuser directement en streaming sur les dispositifs DLNA, notamment les consoles PlayStation 3 et versions ultérieures de Sony, et les consoles Microsoft Xbox 360 et versions ultérieures.
Enfin, les utilisateurs qui sauvegardent leurs données dans un cloud public ont l'option de configurer les disques Seagate Personal Cloud afin de compléter ce service de cloud par deux types d'applications : la sauvegarde et la synchronisation. Les disques Personal Cloud peuvent être paramétrés pour effectuer une sauvegarde automatique auprès des principaux prestataires de services de cloud, notamment Amazon S3, Box, Baidu, DropBox, Google Drive, HiDrive et Yandex.Disk, tout en offrant un niveau de protection hors site supplémentaire. Une option de synchronisation est par ailleurs proposée pour Baidu, DropBox et Google Drive, pour ceux qui souhaitent simplement effectuer une seconde sauvegarde de leurs données les plus récentes sur ces services.
« Face à la profusion d'appareils nomades, les utilisateurs ont tendance à accéder à leur contenu par le biais du
cloud », explique Stephen Baker, vice-président Industry Analysis chez NPD Group. « Un produit tel que le Seagate Personal Cloud offre un nouveau mode de stockage dans le cloud, puisqu'il permet aux consommateurs de profiter des opportunités du cloud à bas coût tout en restant maîtres de leur contenu, et d'y accéder en tous lieux. »
Conscient que les besoins en stockage continueront d'évoluer, Seagate a doté ses dispositifs Personal Cloud d'un gestionnaire d'applications intégré offrant la possibilité d'installer des fonctionnalités supplémentaires après l'achat. Un large éventail d'applications y sont proposées dans un environnement similaire à celui d'un app store, notamment WordPress, BitTorrent Sync et ElephantDrive. Seagate a en outre créé un kit de développement logiciel (SDK) pour son gestionnaire d'applications afin de permettre aux développeurs tiers de créer des scénari d'utilisation innovants pour les disques Personal Cloud.
Enfin, le disque Seagate Personal Cloud a également été conçu pour sauvegarder automatiquement et en continu le contenu de tous les ordinateurs de la maison. Optimisé pour Windows et Mac, le logiciel Seagate Dashboard garantit la protection optimale de vos contenus. Les disques Personal Cloud sont aussi parfaitement compatibles avec le logiciel Apple Time Machine.
Seagate Personal Cloud 2-Bay
Le Personal Cloud 2-bay est destiné aux utilisateurs qui souhaitent effectuer plusieurs sauvegardes de leurs données les plus importantes en cas de panne du disque. Le Personal Cloud 2-bay, doté de deux disques internes, a été préconfiguré afin de dupliquer automatiquement l'ensemble des données sauvegardées sur un disque sur un disque secondaire pour offrir une double protection une plus grande tranquillité d'esprit. Toutefois, les utilisateurs qui souhaitent bénéficier d'une capacité de stockage maximale ont la possibilité de reconfigurer le Personal Cloud 2-bay afin de disposer d'un volume de stockage unique.
Disponibilité
Le Seagate Personal Cloud sera livré aux détaillants dans le courant du mois, à des capacités de 3 To, 4 To et 5 To. Quant au Seagate Personal Cloud 2-Bay, il sera disponible en 3 capacités : 4 To, 6 To et 8 To.
À propos de Seagate
Seagate crée un espace pour l'expérience humaine en innovant dans la manière de stocker, partager et utiliser les données. Pour plus d'informations, consultez le site www.seagate.com. Suivez Seagate sur Twitter, Facebook, LinkedIn, Spiceworks, et Google+ et abonnez-vous à notre blog.
©2015 Seagate Technology LLC. Tous droits réservés. Seagate, Seagate Technology, Seagate Seven et le logo Seagate sont des marques, éventuellement déposées, de Seagate Technology LLC ou de ses filiales aux États-Unis et/ou dans d'autres pays. Toutes les autres marques ou marques déposées sont la propriété de leurs détenteurs respectifs. En matière de capacité de disque, un gigaoctet (Go) égale un milliard d'octets, et un téraoctet (To) égale mille milliards d'octets. Le système d'exploitation de votre ordinateur peut utiliser une norme de mesure différente et indiquer une capacité inférieure. En outre, une partie de la capacité nominale est employée pour le formatage et d'autres fonctions, et ne sera donc pas disponible pour le stockage de données.
Contacts presse – Seagate Technology
Valérie Labrune
valerie.labrune@seagate.com
+33 1 41 86 10 48
+33 6 87 69 41 13
Contacts presse – Agence FleishmanHillard
Kenza Remaoun
kenza.remaoun@fleishmaneurope.com
+33 1 47 42 92 75
+33 6 03 41 31 61