CUPERTINO, CA — Seagate Technology plc (NASDAQ:STX), a world leader in storage solutions, today announced that the popular Seagate Seven™ portable external hard drive is the recipient of the Gold International Design Excellence Award (IDEA) for the computer equipment category, which is one of the world's most prestigious design competitions.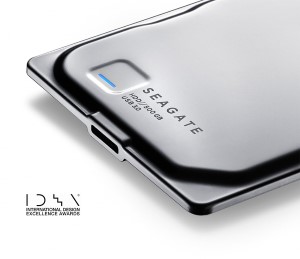 Seagate Seven has been awarded Gold for the 2015 International Design Excellence Award
The award-winning Seagate Seven drive is the slimmest way to carry 500GB of data. Now also available in a 750GB capacity, the product's name is representative of the 7mm depth or z-height of the drive. The simple industrial design of Seagate Seven is intended to pay tribute to the roots of computer storage while simultaneously celebrating the latest advancements in storage innovation. The premium all-metal enclosure highlights the essence of a bare hard drive, Seagate's core competency for over 35 years. Announced at the consumer electronics show in January this year, the Seagate Seven has collected numerous accolades and awards for its novel design concept.
More than 1,700 products from around the world entered IDEA 2015—as the competition marks its 35th year and IDSA celebrates its 50th anniversary. Seagate Seven portable hard drive was unveiled as the Gold winner for the computer equipment category by the Industrial Designers Society of America (IDSA) on August 22, 2015, in a red carpet ceremony at the stunning Benaroya Hall in Seattle.
"Seagate Seven has been a celebratory product for Seagate in 2015 that showcases how far we've come with the advancement of storage technology. We are so pleased that the product has been such a success and so well received by our customers as well as those who are appreciative and the curators of product design," said Mark Whitby, senior vice president of Seagate consumer group. "It is such a great honor to have been selected by the IDSA for this prestigious award."
New IDSA Board of Directors Chair John Barratt—a former IDEA Jury Chair—calls the competition "the authority on design" and says IDEA jurying is "the most rigorous and thoughtful" in the world.
The IDEA Jury, led by Chair Matthew Marzynski, IDSA, met in June at The Henry Ford Museum in Dearborn, MI to judge the 621 IDEA finalists. The result—28 Gold, 53 Silver and 83 Bronze awards. In 20 IDEA categories, there were professional and student entries from the United States and almost three-dozen other countries—Australia to Austria; Estonia to Iran; and Serbia to Somalia.
"When we look at a design, we're not just looking at what's trendy or fashionable at the moment. We have the context of that history of that long line of designers that came before us….," said Matthew Marzynski. "That collective knowledge exists within IDSA is kind of like a living treasure."
About IDSA
Founded in 1965, the nonprofit Industrial Designers Society of America (IDSA) is one of the oldest and largest membership organizations for industrial design professionals and students. IDSA sponsors the annual International Design Excellence Awards® (IDEA), the world's most prestigious industrial design honor, and events including an annual International Conference; five District Design Conferences; and a Medical Design Conference. IDSA produces a highly regarded flagship publication INNOVATION.
IDSA's flagship publication is highly regarded. IDSA has thousands of members in dozens of chapters across the United States and around the world. To learn more about IDSA, visit www.idsa.org, and connect via Twitter @IDSA, and on LinkedIn and Facebook.
About Seagate
Seagate creates space for the human experience by innovating how data is stored, shared and used. Learn more at www.seagate.com. Follow Seagate on Twitter, Facebook, LinkedIn, Spiceworks, Google+ and subscribe to our blog.
©2015 Seagate Technology LLC. All rights reserved. Seagate, Seagate Technology and the Seagate logo, are trademarks or registered trademarks of Seagate Technology LLC or its affiliates in the United States and/or other countries. All other trademarks or registered trademarks are the property of their respective owners. When referring to drive capacity, one gigabyte, or GB, equals one billion bytes and one terabyte, or TB, equals one thousand billion bytes. Your computer's operating system may use a different standard of measurement and report a lower capacity. In addition, some of the listed capacity is used for formatting and other functions and will not be available for data storage.