CUPERTINO, CA —Seagate Technology plc (NASDAQ:STX), a world leader in storage solutions, today announced that the Seagate Seven™ portable drive has won the coveted Red Dot Design Award for high-quality design. Seagate Seven is an ultra-thin external drive with a depth of 7 mm making it the slimmest way to carry 500GB of data. The Seagate Seven features a 5 mm, 2.5-inch internal hard drive with minimalist industrial design and a premium all-metal enclosure.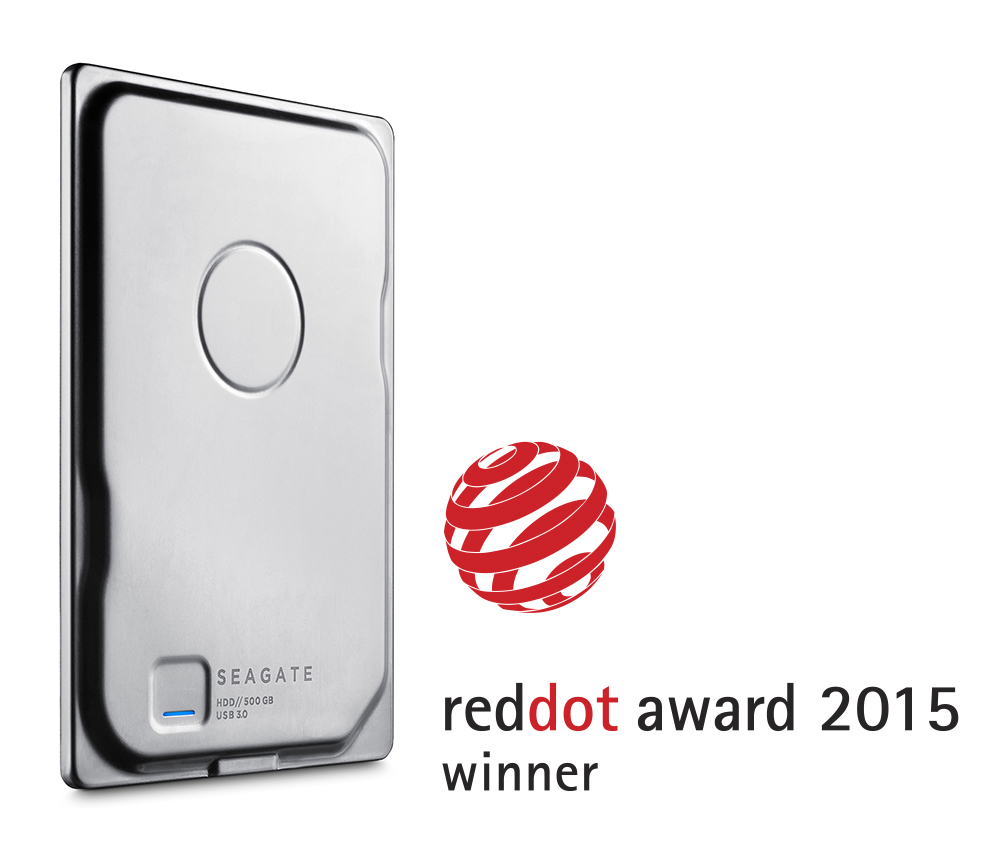 Seagate Seven Portable drive has been awarded for Product Design by Red Dot
"We at Seagate are pleased with the recent accolades our product teams have received for the design of the Seagate Seven portable hard drive," said Mark Whitby senior vice president of branded products group at Seagate. "We set out to develop a product celebrating the history of the hard drive while providing an innovative device with high-design. This latest design award from the Red Dot and the market response to the product are great ways to be recognized for our efforts."
Seagate's design excellence was validated through the competition in product design for the Red Dot award, which is celebrating its 60th anniversary this year. The international experts that made up the thirty-eight person jury discussed and assessed each of the 4,928 entries from 56 countries. Only thirty-one designs were selected and presented with an award.
"For 60 years, the most-respected design experts have been convening every year in Essen to seek out the best designs," said Professor Dr Peter Zec, Founder and CEO of the Red Dot Award. "This year we had a record number of nearly 5,000 entries – a huge amount of work for our jury members, who assessed each individual product, and a special value of the distinction due to the high standard. The laureates of the Red Dot Award: Product Design 2015 have demonstrated exceptionally high achievements and have thus been deservedly successful in the world's largest design competition."
Pricing and Availability:
Seagate Seven is a 500GB portable hard drive which is now available for a suggested retail price of $99.99.
About the Red Dot Award:
The Red Dot Award was created by Design Zentrum Nordrhein Westfalen and with approximately 17,000 entries each year it is one of the most respected design competitions in the world. In 2015, the Red Dot is celebrating its 60th anniversary. It was in 1955 that a jury convened for the first time to assess the best designs of the day. The sought-after award, "Red Dot", is the revered international seal of outstanding design quality.
More information is available at www.red-dot.org/press.
About Seagate
Seagate creates space for the human experience by innovating how data is stored, shared and used. Learn more at www.seagate.com. Follow Seagate on Twitter, Facebook, LinkedIn, Spiceworks, Google+ and subscribe to our blog.
©2015 Seagate Technology LLC. All rights reserved. Seagate, Seagate Technology, Seagate Seven and the Seagate logo, are trademarks or registered trademarks of Seagate Technology LLC or its affiliates in the United States and/or other countries. All other trademarks or registered trademarks are the property of their respective owners. When referring to drive capacity, one gigabyte, or GB, equals one billion bytes. Your computer's operating system may use a different standard of measurement and report a lower capacity. In addition, some of the listed capacity is used for formatting and other functions and will not be available for data storage.