The mobile lifestyle is becoming increasingly visible today through consumer purchases of content consumption devices. These devices come in many forms. While all these configurations are important, the one with the most influence on storage is the smartphone.Analysts expect that annual smartphone shipments will surpass the entire installed base of mobile PCs sometime in 2013.3 They also believe that many new users entering the market, particularly in emerging countries, will skip the PC and go straight to the smartphone because emerging countries realize a more palatable initial infrastructure investment is wireless.
From a storage perspective, the good news is that both tablets and smartphones are content consumption devices that stream data.Cisco reported that global mobile data traffic grew by 70 percent in 2012 and that by 2017 global mobile data traffic will exceed 11 exabytes per month; a 13-fold increase over 2012.4 Further, by 2017 smartphones will account for 68 percent of the traffic with projections that the average smartphone will generate 2.7GB of traffic per month and aggregate smartphone traffic will be 19 times greater than it is today.3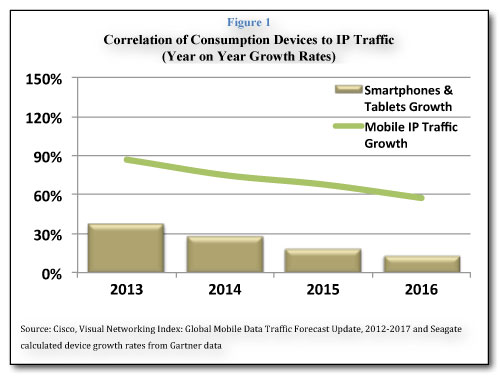 Cisco Visual Networking Index: Global Mobile Data Traffic Forecast Update, 2012-2017
Figure 1. Correlation of Consumption Devices to IP Traffic (Year-on-Year Growth Rates)
Figure 1 shows that smartphones and tablets from 2013-2016 are projected to grow at a 20% CAGR while mobile IP traffic is slated to grow at over three times the rate at 67% CAGR. In other words, for every 1% growth in mobile devices, the network experiences a 3% growth in mobile IP traffic.This is likely not a surprise given that consumers are projected to make up over 90 percent of all IP traffic in 2016, with nearly 70 percent of the traffic being video content.4
Video content will drive gigabyte consumption and demand at two ends of the spectrum: where the data initially resides or is hosted, and where it is ultimately stored. Initially, content is hosted on data center servers (bulk storage), and it is believed this will continue to grow both in public and private clouds. Ultimately, this data may have various destinations, including centralized home data repositories, among them: NAS boxes, gaming consoles or other edge devices, such as a DVR.
Trends also indicate broadband speed, both wired and wireless, will continue to increase, and availability will expand throughout the decade. Within many countries, broadband access and build-out is a national priority. Governments see this as a necessity in order to stay competitive in a world economy. The additional speed and access provided by these efforts will make streaming a viable option for data access, eliminating the need for large amounts of local storage in every device. Further, the increased wireless speed makes the use of home NAS more practical, as households store data centrally and stream content to their device of choice.
The need for storage is clear. The question is where the bulk of this storage will reside in this connected, mobile ecosystem.
Footnotes:
1Gartner - Device by OS and User Type & Forecast Analysis: Mobile Phones, Tablets and Consumer Electronics, Worldwide, 2012-2016, 4Q12
2Cisco – Visual Networking Index: Global Mobile Data Traffic Forecast Update, 2012-2017, February 2013
3Cisco – Visual Networking Index: Global Mobile Data Traffic Forecast Update, 2012-2017, February 2013
4Cisco – Visual Networking Index: Global Mobile Data Traffic Forecast Update, 2012-2017, February 2013