Connect Backup Plus Desktop to your computer
Your Backup Plus Desktop is compatible with computers that feature a USB port.
  Important info regarding USB connections: Your Seagate drive is shipped with a SuperSpeed USB 3.0 cable to ensure maximum data transfer performance when connected to a compatible USB 3.0 port. The cable also works when connected to a USB 2.0 port, but drive performance is limited to USB 2.0 transfer rates.
Step 1 - Connect to a power outlet
Attach one end of the included power cable to Backup Plus Desktop and the other end to a working power outlet. The LED turns on when the device receives power.
Power adapters can vary by region. Therefore, make certain to only use the power cable included with your Seagate Backup Plus Desktop. Attaching third-party or other Seagate power cables with incorrect voltage can damage Backup Plus Desktop.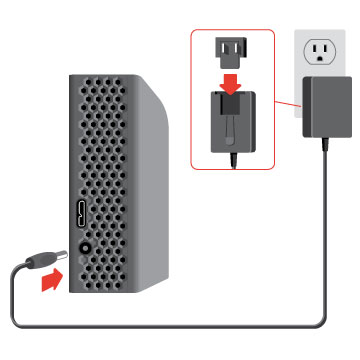 Step 2 – Connect to your computer
Attach the USB Micro-B end of the included USB cable to Backup Plus Desktop.
Attach the USB Type A end of the included USB cable to a compatible port on your computer.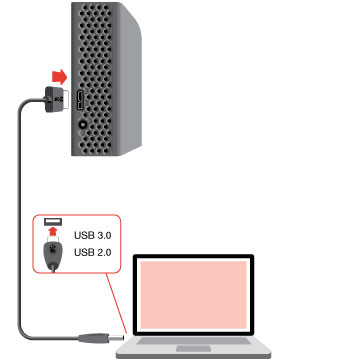 Step 3 – Registration and software
Register your Seagate Backup Plus Desktop to receive the latest news regarding your device. You can register your device and install Seagate software in a few simple steps.
Software included with your Backup Plus Desktop:
Dashboard–Backup software for your Windows computers, mobile devices and social media. For details, see Dashboard.
Open the Seagate Backup Plus Desktop volume in Windows Explorer. Launch the installer by double clicking Start_Here_Win.
Follow the on-screen instructions to register your hard drive and install Seagate software.
If you have questions regarding setup or would like to learn more about your hard drive, visit Seagate Backup Plus Desktop support.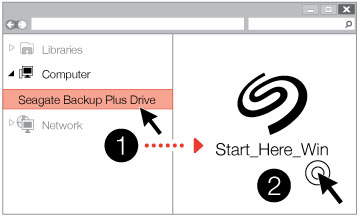 Macintosh computer
Seagate Backup Plus Desktop is formatted for Windows using NTFS. Mac OS X can read hard drives formatted as NTFS but write access is not available without the aid of a special driver. If you want to use Backup Plus Desktop with a Macintosh computer, download and install the Paragon driver. For more information, go to Paragon driver for Mac.