Introduction
Congratulations on the purchase of your Seagate Wireless Plus. Using this device, you can take your digital media anywhere and stream it to your Wi-Fi-enabled tablet, smartphone, or computer. Imagine listening to your favorite music while hiking through the Swiss Alps. You can do that with the Seagate Wireless Plus.
This guide shows you how to set up your Seagate Wireless Plus so that you can begin enjoying your videos, photos, and music wherever you are.
What's in the Box?
Unpack the box and ensure you have all of these items.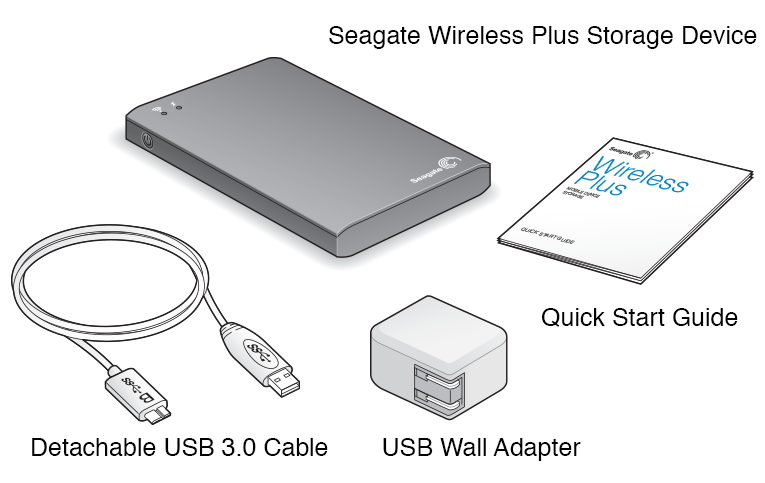 Product Specifications
Supported Devices
iPad, iPhone, iPod touch running iOS 4 or later
Android-based tablets and smartphones running Android release 2.1 or later
Other Wi-Fi-enabled tablets and smartphones
Windows computer running Windows 8, Windows 7, Windows Vista, or Windows XP
Mac computer running Mac OS X 10.5.8 or later
Supported Web Browsers
Safari 5 or later (Mac OS)
WebKit (Android)
Internet Explorer 8 or later (Windows)
Firefox
Google Chrome
Supported File Types
For iPads
Video: H.264 video, MPEG-4, Motion-JPEG
Audio: AAC, MP3, M4a, Audible (formats 2, 3, 4), Apple Lossless, AIFF, WAV
Documents: Microsoft Office, iWork, PDF
Certain files supported by third-party apps
For Laptops, Tablets, and Smartphones
Any files supported by your device applications
Hardware Specifications
Drive Capacity: 1TB
The Wireless Plus can store over 300 high- definition movies (1.5GB MP4 H.264), 125,000 songs, or 100,000 photos.


  Note: Quantitative usage examples for various applications are for illustrative purposes. Actual quantities will be based on various factors, including file size, file format, features, and application software.

SuperSpeed USB 3.0 port (required for USB 3.0 transfer speeds) or USB 2.0 port
Battery: Non-user replaceable, rechargeable lithium-ion battery
Battery Life: Up to 10 hours of continuous streaming (1 user); up to 25 hours standby
Maximum Wi-Fi range: 45 meters (147 feet)
Drive Format: NTFS
The Paragon NTFS driver is available to enable read/write access using the Mac OS. The software is available on your Seagate Wireless Plus.