Connect your Innov8 to your computer
Your Innov8 is compatible with computers that feature a USB-C port.
  Important info regarding USB-C cables: Third-party USB-C cables can be faulty or defective due to improper materials and/or construction. Only use the USB-C cable included with your Innov8. Using third-party USB-C cables or, USB-C to USB Type A cables of any kind voids your warranty.
Step 1 – Connect to your computer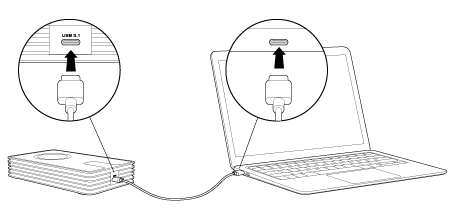 Attach one end of the included USB-C cable to the Innov8 and the other end to a USB-C port on your computer. The LED may turn red before changing to white.
Your Innov8 is approximately 75% charged out of the box. The battery charges automatically when it is connected to your computer.
Step 2 – Registration and software
Register your Seagate Innov8 to assure quality Seagate support and receive the latest news regarding your device. You can register your device and install Seagate software in a few simple steps.
Software included with your Innov8:
Lyve–Automatically collect photos and videos stored on all your devices and display them in one organized view. For details, visit Lyve.
Dashboard–Backup software for your Windows computers, mobile devices and social media. For details, see Dashboard.
Open the Innov8 volume in Windows Explorer or the Mac desktop.
Launch the installer.

Windows: double click Start_Here_Win

Mac: double click Start_Here_Mac


Follow the on-screen instructions to register your Innov8 and install Seagate software.
For advanced troubleshooting or to report a problem with your Seagate device, contact Seagate customer support.