Subscription Management
How do I create a Lyve Cloud subscription?
 Only master users and sub users will be able to create or see Lyve Cloud subscriptions. End users will not.
Go to lyve.seagate.com and sign in. Enter a verification code to continue to Lyve Management Portal.
On the Lyve Services page, click Get Started on the Lyve Cloud card.

On the Service Plan page, select the billing service plan for your Lyve Cloud subscription and click Continue.
 There are multiple plans available to fit your business needs, including 'pay as you go' and 'reserve plans paid upfront annually'. The list pricing and general terms of the plans are listed. If you would like to start with an evaluation of Lyve Cloud services, choose the 'pay as you go' option. Upon conversion to a paying account, you will be able to update your rate plan by reaching out to a Seagate sales rep or customer success representative.
In the Account ID field, enter a unique ID for your account and click Validate. Once the account ID has been successfully validated, click Continue.
Enter the name and contact information of the console admin. This user can perform all the operations in the Lyve Cloud console.
Enter the end user details and click Continue.
Review your service plan and account details. If you have a valid promo code, enter it in the order summary section.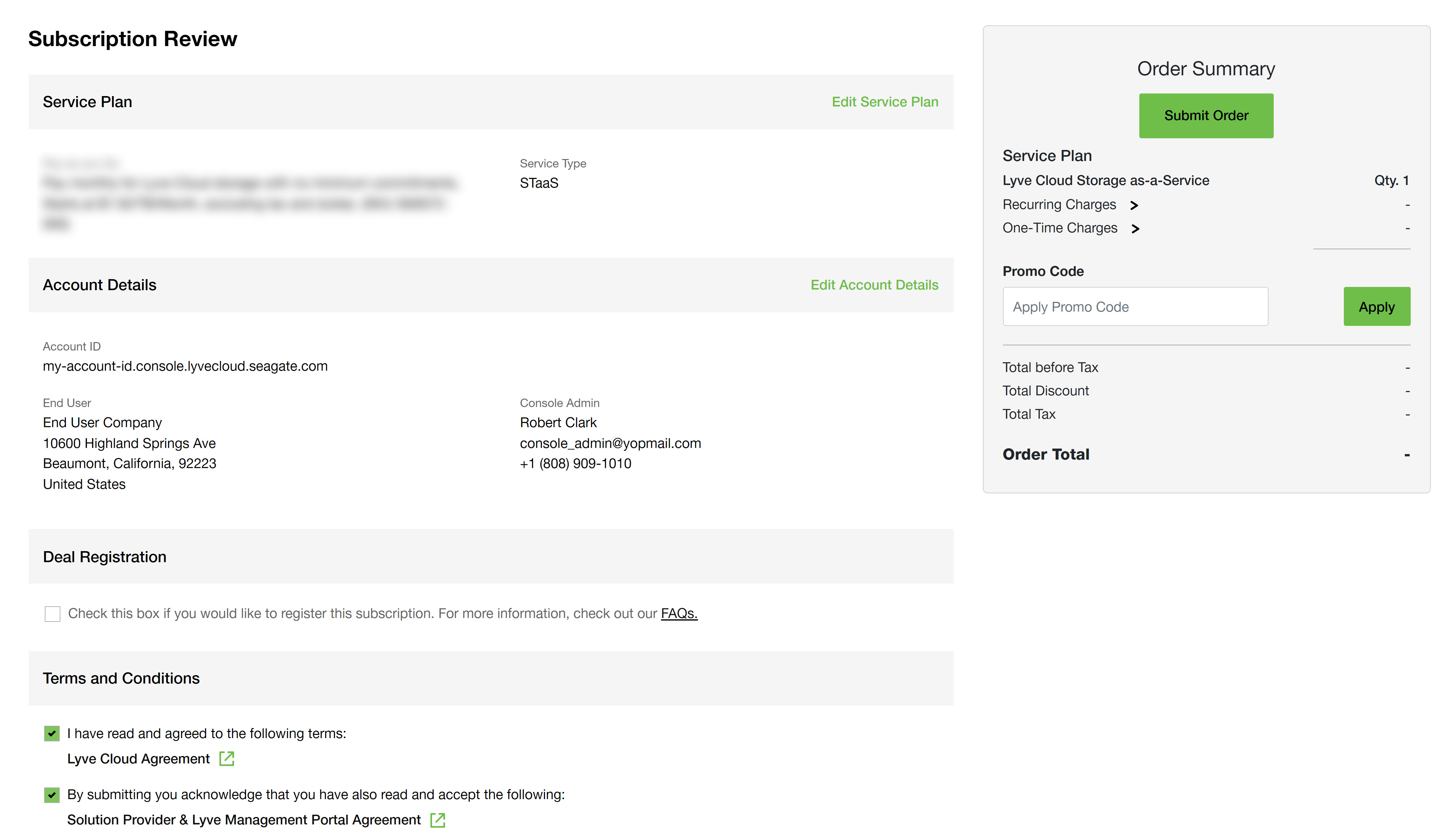 Submit your order or request a quote from Seagate.

After creating your subscription, you can access the Lyve Cloud console by clicking Launch Console from the subscription tile on the Your Lyve Cloud Subscriptions page.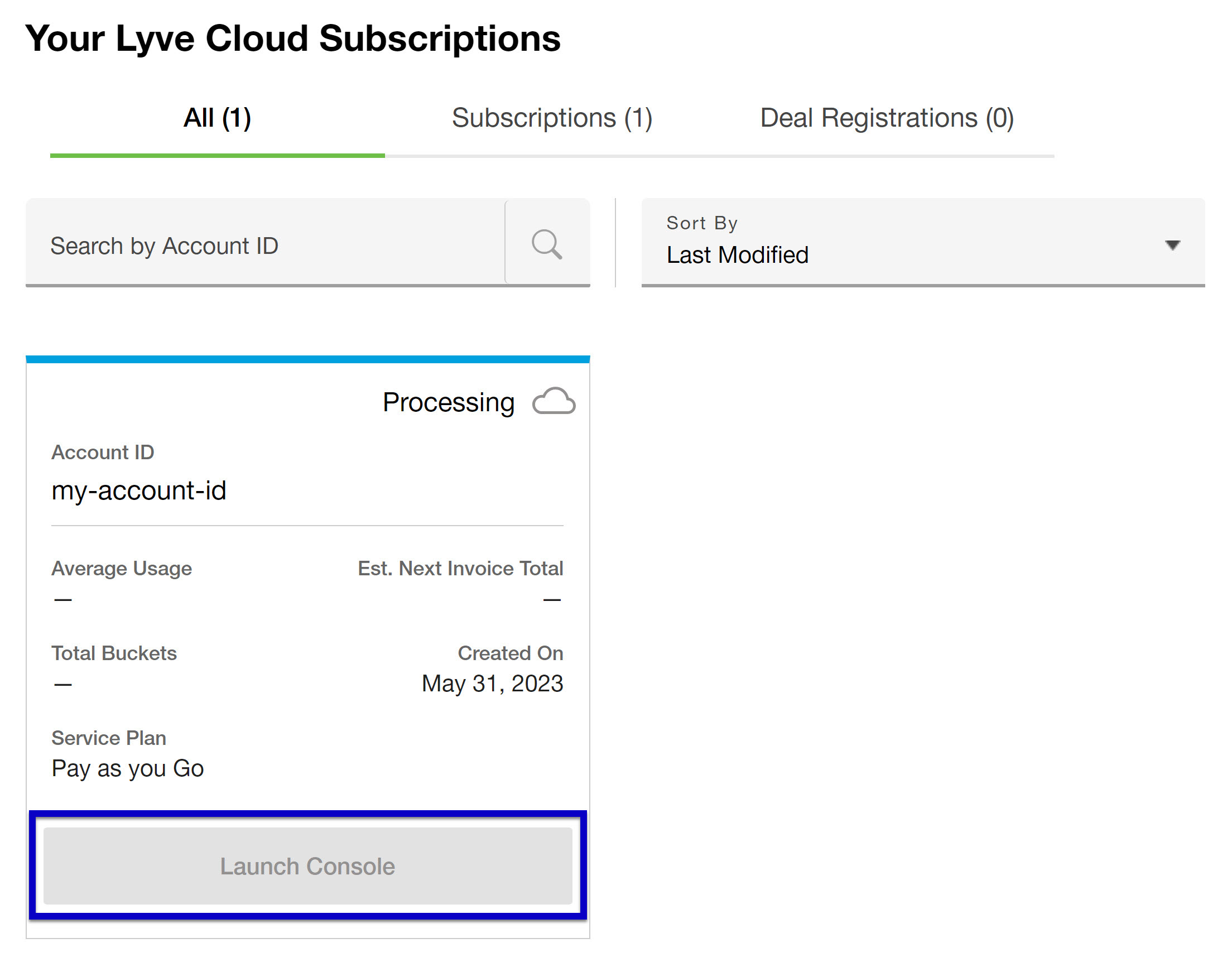 This will open a new browser tab where you will need to enter your Lyve Cloud credentials to sign in. If you do not have a Lyve Cloud account, you will receive an email with instructions to create one.
How do I register a deal?
Solution Providers can register a deal with Seagate. For more information, see the following Deal Registration FAQ.
 Customers of a Solution Provider cannot view deal registrations.
To register a deal:
Follow the steps to create a subscription.
On the Subscription Review page, scroll down to the Deal Registration section and check the Deal Registration checkbox. Use the links to review the terms and conditions, and then acknowledge them by checking the checkboxes.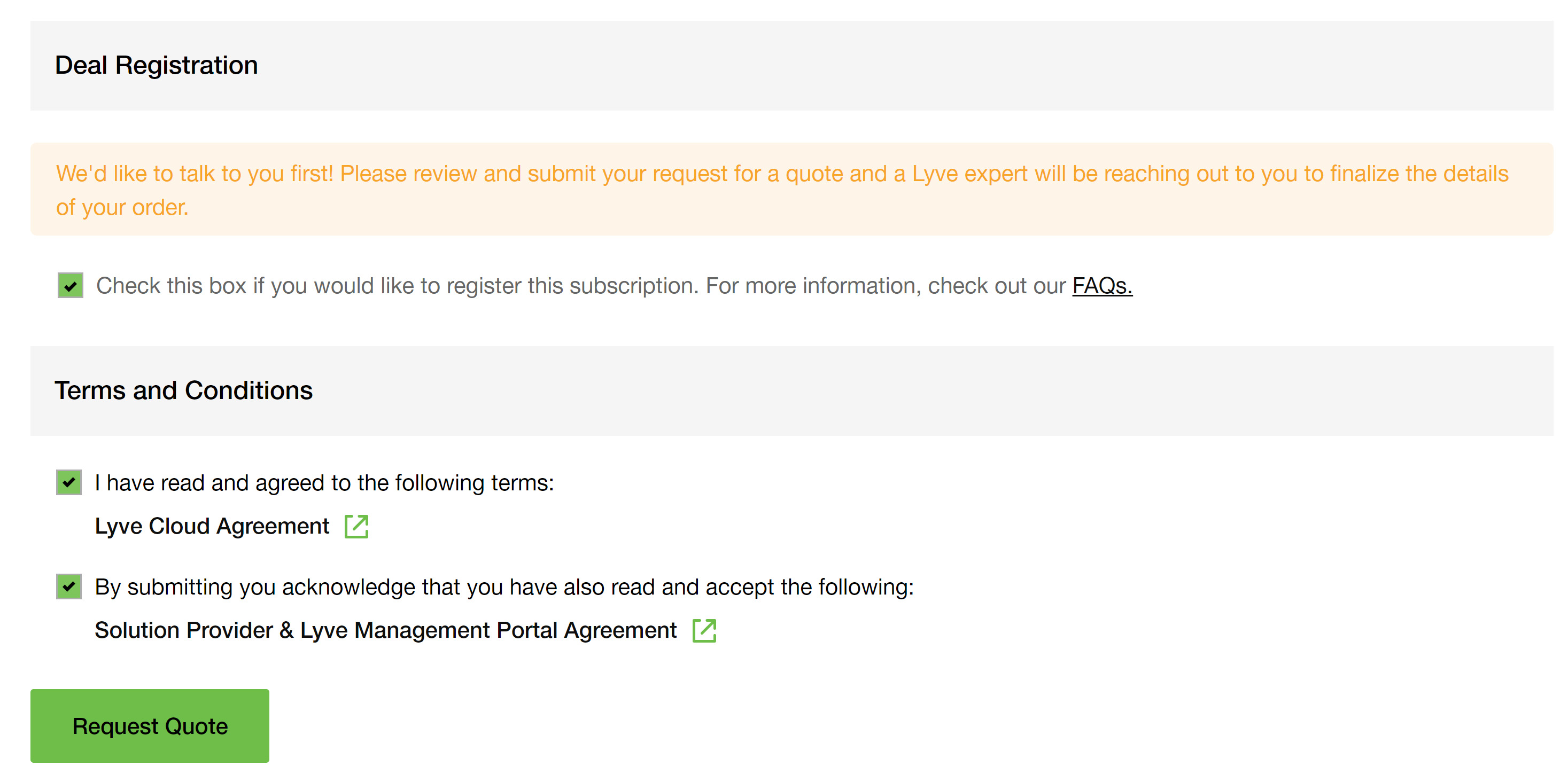 Click Request Quote.
Deal status
Once the quote is requested, Seagate begins the deal registration approval process. The status of the deal can be tracked on the Subscriptions page in Lyve Management Portal. Until the deal is approved by Seagate, the status displayed will be Deal Registered. The status will update accordingly when the deal is approved or declined.
For a subscription to qualify as a registered deal, it must be both approved by Seagate and then converted to an order within 90 days of submitting the deal registration request. A deal will expire 90 days after you've submitted it for review, even if the deal has been approved. Contact your Lyve Sales representative to request an extension and resubmit the deal for approval. If you don't know who your Lyve Sales representative is, contact LyveMobilePartnerSuccess@seagate.com.
Once a deal is converted to an order, it will show up in Lyve Management Portal as a subscription and can no longer expire.
Convert to order
A deal can be converted to an order at any time. To convert a deal to an order, click on the Deal Registration card and click Convert to Order.