Welcome
Seagate® Lyve™ Mobile Array is a portable, rackable data storage solution designed to quickly and securely store data at the edge or move data across your enterprise. Both the full-flash and hard drive versions enable universal data compatibility, versatile connectivity, secure encryption, and ruggedized data transportation.
Box content
Part
Description
Lyve Mobile Array

Power adapter

US power cord
EU power cord
UK power cord
AU/NZ power cord
Thunderbolt

™

3 cable (up to 40Gb/s)
SuperSpeed USB-C to USB-C cable (USB 3.1 Gen 2, up to 10Gb/s)
SuperSpeed USB-C to USB-A cable (USB3.1 Gen 1, up to 5Gb/s and compatible with USB 3.0 ports)
Magnetic labels (x3)
Security ties (x2)
Shipping case
 
Quick start guide
Minimum system requirements
Computer
Computer with one of the following:
Thunderbolt 3 port
USB-C port
USB-A port (USB 3.0)
 Lyve Mobile Array does not support HighSpeed USB (USB 2.0) cables or interfaces.
Operating system
Windows® 10, version 1909 or Windows 10, version 20H2 (latest build)
macOS® 10.15.x or macOS 11.x
Specifications
Dimensions
| | |
| --- | --- |
| Side | Dimensions (in/mm) |
| Length | 16.417 in/417 mm |
| Width | 8.267 in/210 mm |
| Depth | 5.787 in/147 mm |
Weight
| | |
| --- | --- |
| Model | Weight (lb/kg) |
| SSD | 21.164 lb/9.6 kg |
| HDD | 27.7782 lb/12.6 kg |
Electrical
Power adapter 260W (20V/13A)
 When charging the device using the power supply port, use only the power supply provided with your device. Power supplies from other Seagate and third-party devices can damage your Lyve Mobile Array.
Ports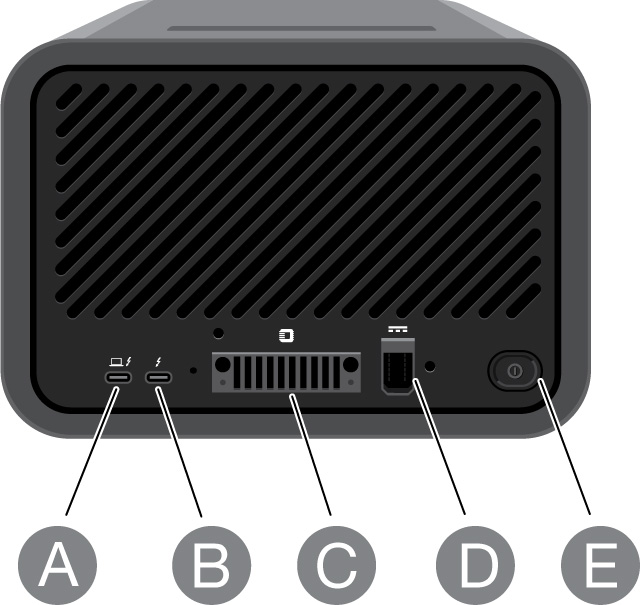 Direct attached storage (DAS) ports
Use the following ports when connecting Lyve Mobile Array to a computer:
A
Thunderbolt

™

3 (host) port—Connect to Windows and macOS computers.
B
Thunderbolt

™

3 (peripheral) port—Connect to peripheral devices.
D
Power input—Connect the power adapter (20V/13A).
E
Power button—See Direct-Attached Storage (DAS) Connections.
Seagate Lyve Rackmount Receiver ports
The following ports are used when Lyve Mobile Array is mounted in a Lyve Rackmount Receiver:
C
Lyve USM

™

Connector (High Performance PCIe gen 3.0)—Transfer large amounts of data to your private or public cloud for efficient throughput up to 6GB/s on supported fabrics and networks.
D
Power input—Receive power when mounted in Rackmount Receiver.