Introduction
Thank you for purchasing Seagate network storage. Your Seagate device is designed to provide easy centralized access to your data. It also includes a web-based management tool called the web board. You can launch the web board to manage:


Access to the device
Data backups
File sync to popular cloud services
Automated downloads
Third-party apps for Seagate storage
For more information on how to launch the web board and manage your Seagate network storage, see your product's user manual:


IFTTT
The acronym "IFTTT" stands for if this, then that. IFTTT links your favorite apps, services and devices and automates actions between them. Links between apps, services and devices are called IFTTT recipes. For example, you want to receive weather notifications on your Android phone each morning at 7:00 AM. Using IFTTT, you can choose a weather app or service and then link it to your Android device.
Each app, service and device has its own IFTTT channel. There are channels for apps such as Instagram, cloud services such as Amazon Cloud Drive and devices such as Android mobile devices. The links you create on IFTTT make the connections between them and facilitate automation so that you do not have to manually repeat the same tasks.
Your Seagate storage features its own channel with a wide array of easy-to-configure recipes. A common recipe is automatically downloading photos that you take on your mobile device to the Seagate storage. Each time you snap a photo, you are guaranteed that it is backed up and available for viewing on your Seagate storage. There is no need to perform the task manually since the recipe has been enabled on the Seagate storage IFTTT channel.
See the image below to view how default recipes are presented on the Seagate storage IFTTT channel.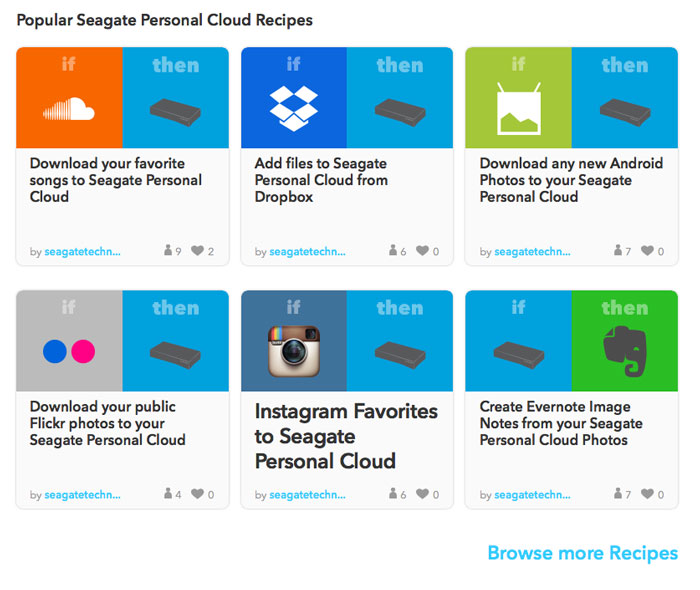 For further information about IFTTT, see About IFTTT.
For a list of example IFTTT recipes, see IF recipes.