Introduction
Game harder with Seagate® FireCuda® Gaming Dock, an elite storage hub that connects an entire desktop battlestation—keyboard, mouse, USB headset, webcam, display monitor, and more—via one Thunderbolt® 3 cable.
For common questions and answers about your hard drive, see Frequently Asked Questions or visit Seagate customer support.
Box content
FireCuda Gaming Dock

Power supply
Thunderbolt 3 cable
  Important—Save your packaging. If you experience problems with your FireCuda Gaming Dock and want to exchange it, the device must be returned in its original packaging.
Minimum system requirements
Ports
Thunderbolt 3 port
FireCuda Gaming Dock is a Thunderbolt 3 powered hub. Connecting FireCuda Gaming Dock's host port to a computer's USB port will result in limited functionality:
Lower performance.
No support for the NVMe SSD expansion drive.
Computer's USB port may not support FireCuda Gaming Dock's DisplayPort function.
Operating system
Windows® 10 or higher
Minimum free disk space
System overview
Front view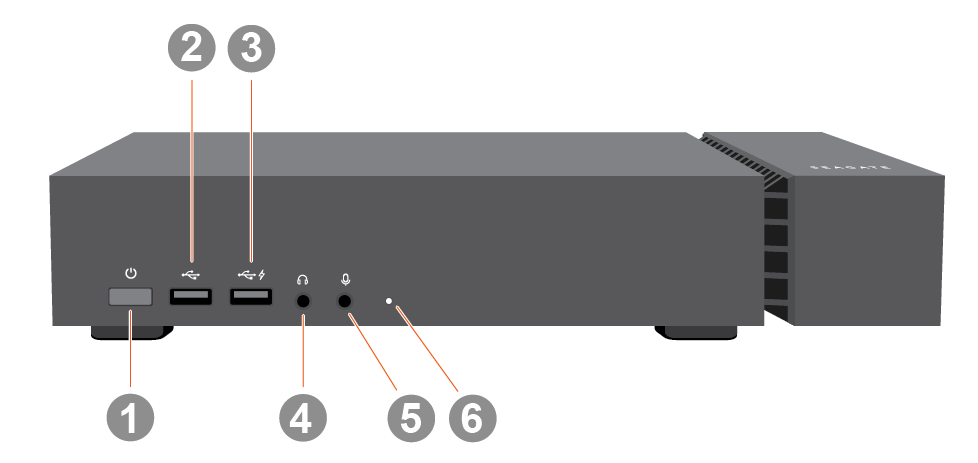 Power button—Powers the device on and off.
USB 3.1 (Gen 2) port—USB Type A connector for peripheral devices.
Charging USB 3.1 (Gen 2) port—USB Type A connector providing 7.5W/5V/1.5A charge for peripheral devices.
Headset—3.5mm audio-out port.
Microphone—3.5mm audio-in/mic port.
Status LED— Indicates that the device is powered on and provides status signals.
Color
Status
Blue
FireCuda Gaming Dock's Host Thunderbolt 3 port is connected to host computer's Thunderbolt 3 port.
Green
FireCuda Gaming Dock's Host Thunderbolt 3 port is connected to host computer's USB port.
Red (blinking)
Temperature warning
Red (steady)
Possible causes:


FireCuda Gaming Dock's Peripheral Thunderbolt 3 port is connected to host computer's USB port
Temperature critical
Fan absent

Off
LED has been disabled in Toolkit or the device is powered off.
Back view

Power input—Use this port to connect the power cable. Only use the power cable included with Seagate FireCuda Gaming Dock. Attaching third-party or other Seagate power cables with incorrect voltage can damage the device.
Host Thunderbolt 3 port—Thunderbolt 3 port that connects to a Thunderbolt 3 port on the host computer. Use the provided Thunderbolt 3 cable.
Peripheral Thunderbolt 3 port—Thunderbolt 3 port for peripheral devices. Use this port to daisy-chain multiple Thunderbolt devices or a single non-Thunderbolt USB-C device.
DisplayPort 1.4 port—Sends the video signal from your computer to a monitor.
USB 3.1 (Gen 2) ports—USB Type A connectors for peripheral devices.
Ethernet port—RJ45 ethernet network port. Use this port to connect your computer to your local network.
Firmware update button—From time to time, Seagate may release firmware updates that enhance FireCuda Gaming Dock. Toolkit may alert you to new available firmware updates.  You can also find firmware updates posted on the product support page. When following the firmware update instructions, you will be prompted to use a thin, rigid wire (such as the end of a paperclip) to push the button within the recessed space. Only press this button when following instructions to update the firmware.