Video Verification
The Verification Tool confirms the digital signature on files created by Seagate Surveillance Manager. If the digital signature is not recognized, someone may have tampered with the files.
The Verification Tool checks for three types of data:
| Icon | File Format |
| --- | --- |
| | (.dat) (.264) |
| | (.avi) (.asf) |
| | (.bmp) (.jpg) |
You must install the desktop app to access the Verification Tool.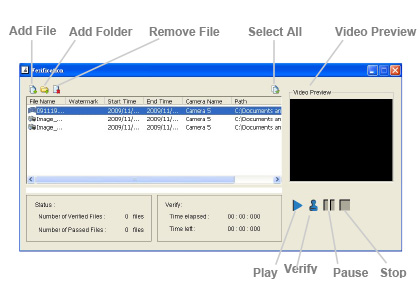 Add File–Browse for a file to add to the verification list.
Add Folder– Browse a folder to add to the verification list.
Remove File–Remove selected files from the verification list.
Select All–Select all files.
  Important info: Choose the file type before selecting files.
Video Preview–Preview a file on the verification list and choose:
Verify the image / video
Launch the Verification Tool. It is available in the Seagate Surveillance Manager folder.
Browse for folders or files to verify.
Click Verify .
The verification results include column called Watermark. Tampered files are red ( ) and clean files are green ().