Introduction

Thank you for purchasing a Seagate WSS NAS 2-Bay | 4-Bay | 6-Bay. Powered by Windows Storage Server 2012 R2 Essentials, your Seagate WSS NAS gives you the advanced file sharing and network security tools to manage your company's data.
Use this manual for step-by-step instructions on installation, hardware maintenance, and troubleshooting. If you encounter problems, check Getting Help.
Note:
Refer to
Warranty
before performing any hardware repairs or maintenance that is not described in this manual.
Who should use this manual
This user manual assumes that you have a working knowledge of Windows Server environments, networks, NAS (network-attached storage), and storage products. If you do not have these skills or, are not confident with the instructions in this guide, do not proceed with the installation or component replacement.
Box contents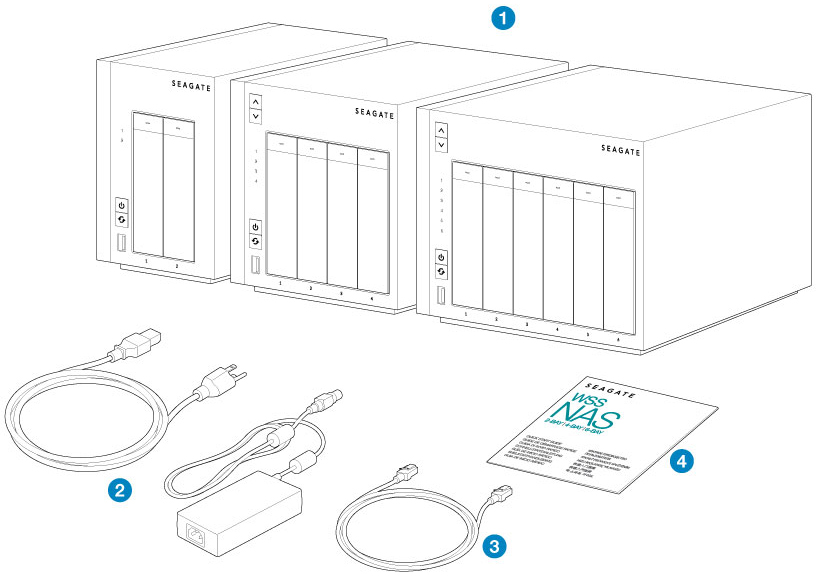 Seagate WSS NAS 2-Bay | 4-Bay | 6-Bay
Power supply cable
Ethernet cable
Quick Start Guide
The packaging also includes screws to mount 2.5-inch hard drives to the hard drive trays. See Hard Drive Maintenance for instructions on how to install hard drives into the NAS enclosure.
  Important info: Save your packaging. In the event that the product requires repair or service, it must be returned in its original packaging.
Seagate WSS NAS features
  Important info: Your Seagate WSS NAS must be connected to a DHCP server to allow proper automatic remote server setup.
Client types
Windows Vista™, Windows 7, Windows 8
Windows Server 2008, Windows Server 2008 R2, Windows Server 2012, Windows Server 2012 R2
Networking
Dual gigabit failover and link aggregation
IPv4/IPv6
DHCP server and client
WINS server
DNS server
Subnet
VPN
Storage file formats
Internal: NTFS, ReFS
External: NTFS, exFAT, FAT32
Licensing
Supports up to 50 user sessions and 50 devices for backup
Data Management
Storage Spaces with mirror or parity redundancy
Supports hot spare
Thin provisioning
Data deduplicaiton
NTFS online scan and repair (CHKDSK)
For optimal performance, use Gigabit Ethernet equipment.
  Important info: External forces such as network activity, hardware, distance, and setup can affect your Seagate product's performance.