System LEDs
The Seagate WSS NAS 2-Bay | 4-Bay | 6-Bay features LEDs that provide information on the system's status. Review the illustrations below for the LED locations on the chassis.
WSS NAS LEDs
Status and drive LEDs
Hard drives (The number of hard drive LEDs differs by model.)
Status (Power button)
Function
WSS NAS Ethernet LEDs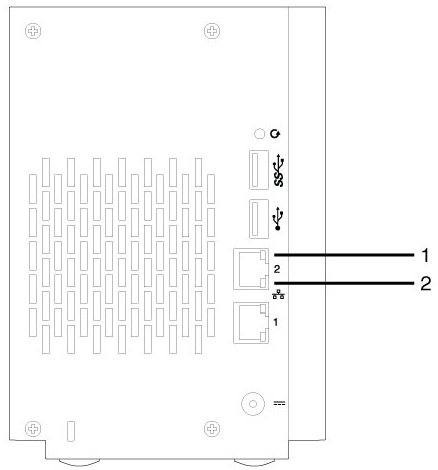 Activity
Speed
LED behavior
Status LED
The list of colors below helps you identify the general status of your NAS.
| Color | Status |
| --- | --- |
| Solid white | Ready |
| Blinking white | Startup; recovery |
| Alternating red and white | Fan error |
| Blinking red | Warning or notice |
| Solid red | Error; no system disk |
Hard drive LEDs
The list of colors below helps you identify the status of the NAS's hard drive:
| Color | Status |
| --- | --- |
| Solid white | Ready |
| Blinking white (steady) | RAID rebuild |
| Blinking white (intermittent) | Activity |
| Alternating red and white | SMART errors; high temperature; failed redundancy |
| Blinking red | Error |
| Solid red | Disk not recognized |
Function LED
The NAS's function LED is only active during a recovery:
| Color | Status |
| --- | --- |
| Solid white | Ready for recovery |
| Blinking white | Performing recovery |
Ethernet activity LED
The NAS's Ethernet activity LED indicates access to the device:
| Color | Status |
| --- | --- |
| Steady amber | No activity |
| Blinking amber | Activity; Wake on LAN is enabled |
Ethernet speed LED
The NAS Ethernet speed LED indicates the speed of your network connection:
| Color | Status |
| --- | --- |
| Off | 10Mb/s |
| Amber | 100Mb/s |
| Green | 1Gb/s |