Solid state hybrid drives (SSHD) entered the market a few years ago with Seagate being the sole provider of 2.5-inch form factor SSHDs for laptop computers. Three years later, Toshiba and Western Digital entered the market, both shipping 2.5-inch form factor products targeting the laptop computer market.
SSHD for Desktops and Workstations
Seagate is the first company to ship an SSHD product in the 3.5-inch form factor, which is traditionally sized for the desktop and workstation market. The Seagate® Desktop SSHD is available in 1TB, 2TB and 4TB configurations, which use the same architecture that made their Laptop SSHDs very popular. To demonstrate the fact that the Desktop SSHDs are as fast as the laptop family, Seagate tested the new products alongside their own 7200-RPM Desktop HDD, a competitive 5400-RPM desktop HDD and an Intel 320 SSD. All tests were run on the same non-branded desktop platform built on an Intel Core i5 processor equipped with 4GB of DRAM cache. Testing was completed on the Windows 7 operating system.
How Seagate Benchmarks for Performance in the Real World
Each storage device was evaluated using the following tests and benchmarks:
PCMark Vantage
SysMark
Boot and application testing
Time-to-ready testing
Seagate tests each device and compares the results to evaluation performance. When testing the SSHD, the tests run four consecutive times to allow the device to develop an initial basis of data usage. This simulates how the drive runs in a real world environment.
PCMark Vantage
PCMark Vantage is a performance benchmark used to test PC performance at the system and component level. As Figure 1 illustrates, the third-generation Seagate Desktop SSHD product yields performance that is substantially faster than either 5400- or 7200-RPM hard drives and is competitive with the Intel 320 SSD.
SysMark
SysMark is an application-based benchmark reflecting use patterns for users in the areas of office productivity, data/financial analysis, system management, media creation, 3D modeling and web development. As displayed in Figure 2, SSHDs are much faster than HDDs and approach SSD performance.
Boot and Application Testing
Boot testing involves booting up the system with selected applications and operating system and checking how they run for set periods of time with different workloads. Multiple reboots allow collection of data in regards to performance and environment stability. Figure 3 shows real-world performance for boot and application load data. Boot times with SSHD technology are fairly competitive to the SSD. Application load tests are achieved using automated macros, which launch and load common applications and associated data including Acrobat Reader, iTunes, QuickTime, Internet Explorer, Office, Photoshop and Premier Elements. Again SSHD performance is substantially better than the HDD and not substantially behind that of the SSD.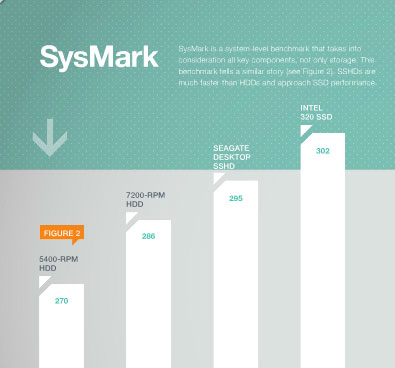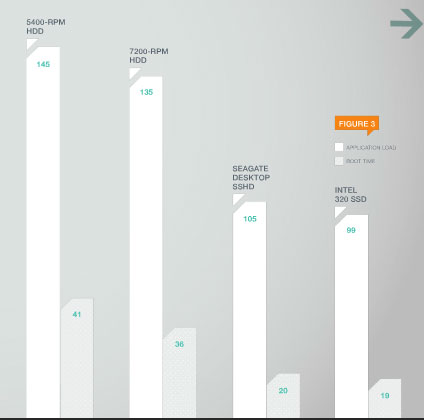 Time-to-Ready
Time-to-ready testing measures how long it takes for a storage device to start up after a power cycle and begin transferring data to the operating system. Windows 8 requires a time-to-ready of four seconds or less. When testing SSHDs, Seagate runs the time-to-ready test four consecutive times to allow the device to develop an initial basis of data usage. This simulates how the drive runs in a real world environment. In Figure 4, note the time-to-ready numbers. Since desktop drives have more mass, they typically take longer to spin up the platters and become ready. But since SSHDs access start-up data in NAND flash memory, users do not have to wait for the platters. A great benefit of Seagate SSHD products is that they all achieve a time-to-ready speed of about 0.5 seconds. This time-to-ready number is going to be a very tough goal for other hard drives to achieve, especially 3.5-inch form factor products.
Thorough Testing Makes the Case for SSHD
The results of testing reveal a pretty compelling story for the Desktop SSHD. SSHDs deliver substantially better performance than either 5400- or 7200-RPM desktop hard drives. This is true in every category of testing, although it is most compelling when looking at boot data and application load data.
SSDs yield the overall best performance, yet the margins of improvement in real-world tests for booting, launching and loading applications are not as dramatic as the PCMark Vantage results would suggest.
The SSHD really shines when its combination of performance, capacity and price are evaluated together. For users who are looking for incremental performance and system responsiveness, SSHDs are much faster than standard HDDs. Users also need substantial capacity for their digital lives and, again, SSHDs clearly rise to the top. SSHDs are only slightly more expensive than a traditional HDD, making them appealing when considering performance returns compared to cost.
Desktop SSHD performance is similar to Laptop SSHD performance. And while this is officially the first-generation Seagate Desktop SSHD product, it clearly benefits from past experience with two previous generations of Seagate Laptop SSHD drives.
Customers benefit from productivity gains created by noticeably better performance and quicker response times from computers that have SSHDs installed on them.