New Features Offer Advanced Cloud Backup and Capacities for Every Lifestyle
CUPERTINO, CA — Seagate Technology plc (NASDAQ: STX) today announced the next evolution in the company's wireless storage category.  Seagate® Wireless Plus mobile device storage now consists of a family of capacities at 500GB, 1TB and 2TB versions to suit every need along with integration with cloud services, such as Dropbox and Google Drive. The Seagate Wireless Plus storage is designed to expand beyond the limitations of mobile devices, such as smart phones and tablets. With capacities that are multiples beyond the highest storage available on these mobile devices, the Seagate Wireless Plus provides an ideal solution to stream your favorite HD video while freeing up precious space on your Android Tablet, iPad, iPhone, Android Smart Phone, Kindle Fire, Windows 8 computers and Windows RT tablets.  
Seagate created the wireless storage category in 2011 to address consumers' desire to enjoy more content than tablets and smartphones can hold with their limited storage options. A CES 2013 Best of Innovations Award Winner, the Seagate Wireless Plus now includes a new option to save content and files to the drive wirelessly through the updated Seagate Media app as well as the ability to migrate files to cloud services such as Dropbox and Google Drive.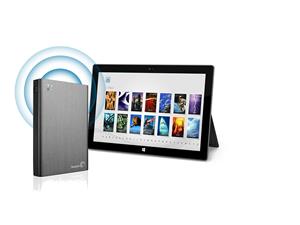 Seagate Media App for Seagate Wireless Plus mobile storage is now compatible with Windows 8 and includes integration with popular cloud storage services.
"Wireless connectivity is a feature that has been added to external storage over the last couple of years; it provides the convenience of high capacity and easy sharing for mobile devices that are limited in their storage capabilities," said Ross Rubin, principal analyst at Reticle Research.  "Now, with the integrating of popular cloud storage services to these products, there exists an invaluable bridge to even more content."
The Seagate Media app's new capability to sync your files on the Seagate Wireless Plus storage with an existing cloud storage provider means that your files are always accessible even when you don't have network access. The Seagate Media app creates your own Dropbox or Google Drivefolder, so files are available and at the ready. Then once you are back on the network, your files will automatically re-sync to ensure all changes are saved in both the cloud and the Wireless Plus drive.
"Having pioneered the category of wireless local storage for mobile devices, Seagate is now proud to advance the platform by adding more capacities and developing advanced features that will benefit how people are using these drives," said Scott Horn, vice president of global marketing for Seagate. "Cloud storage services provide a convenient way for people to migrate files between devices and share with friends and colleagues. With the new Seagate Media app and Wireless Plus mobile storage, people will now be enabled to use these cloud services to access even more media from their Wireless Plus storage device."
Seagate Wireless Plus mobile device storage is accessed through the mobile Seagate Media app for Apple iOS, Android, Kindle Fire HD, Windows 8 tablets. Seagate Wireless Plus mobile storage connects to devices over a Wi-Fi connection, which the battery-powered drive emits once powered on. Simply connect to the network by searching for Wireless Plus in your available Wi-Fi networks. The drive creates its own Wi-Fi network, eliminating the need to be within range of an existing network connection.
Additionally, you can use Wireless Plus to enjoy video, photos, music and even documents on the big screen via Apple Airplay, DLNA or an app designed specifically for Samsung Smart TVs and Blu-ray players.
Pricing and Availability:
Seagate Wireless Plus mobile storage has a supported battery life of up to 10 hours and provides its own Wi-Fi signal to enable access to the drive. The drive is now available at 2TB for an MSRP of $199.99 and 1TB for $179.99 MSRP. The 500GB capacity point will be available from Seagate.com as of Friday, May 9th at a MSRP of $149.99 MSRP, but can be purchased by pre-order today.  
About Seagate
Seagate is a worldwide leader in storage solutions. Learn more at http://www.seagate.com.
©2014 Seagate Technology LLC. All rights reserved. Seagate, Seagate Technology, the Wave logo, are trademarks or registered trademarks of Seagate Technology LLC or its affiliates in the United States and/or other countries. All other trademarks or registered trademarks are the property of their respective owners. When referring to drive capacity, one gigabyte, or GB, equals one billion bytes and one terabyte, or TB, equals one thousand billion bytes.  Your computer's operating system may use a different standard of measurement and report a lower capacity.  In addition, some of the listed capacity is used for formatting and other functions and will not be available for data storage.