Enabling partners and customers to benefit from high-performance computing systems, build private and public clouds with an Intelligent Information Infrastructure system
NEW YORK, NY — Seagate Technology plc (NASDAQ: STX) today announced it has further strengthened its position as a trusted storage solutions leader by delivering cloud systems and solutions for original equipment manufacturers (OEMs), "do-it-yourself (DIY)" and other organizations. Seagate is building on its position as a steward of digital information, and its acquisitions of Xyratex and EVault, to deliver an Intelligent Information Infrastructure system to help organizations manage the massive growth in digital data and deliver on next generation workloads.
"Industry research firm IDC estimates that the overall volume of digital bits created, replicated, and consumed across the United States alone will hit 44 zettabytes by 2020[1]. That represents a doubling of data volume every two years," said Jamie Lerner, President of Cloud Systems and Solutions at Seagate.  "Organizations are looking for cost-effective ways to harness data and create actionable information. Seagate is bringing an open approach to the Intelligent Information Infrastructure program. We are applying our experience working with cloud service providers worldwide to create systems and solutions that manage next generation workloads with the scale, performance and economy aligned to business needs."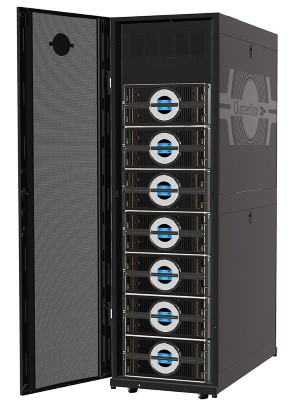 ClusterStor™ 9000 solution, a fully integrated Lustre-based scale-out solution designed for HPC and Big Data customers who need to reliably plan, deploy and sustain maximum optimal application performance.
Much of the data growth is in unstructured data. Industry analyst firm IDC "estimates that in 2015, as far as enterprise disk storage systems are concerned, unstructured data will surpass structured data in terms of both capacity shipped and customer revenue."[2] Industry analyst firm Gartner says "the explosion in unstructured data, which is growing at 40% to 60% on a yearly basis in most enterprises, has catapulted object storage as an inexpensive, scalable, self-healing, multitenant platform for storing petabytes of data."[3]
Seagate Cloud Systems and Solutions has a growing number of offerings in four areas:
Integrated High-Performance Computing solutions
Engineered for high-performance computing, Seagate's HPC solutions combine ultra dense data enclosures,  operating system, hardware controllers, and the Lustre® file system in a consolidated, scale-out high-performance-computing platform. The award-winning Seagate HPC solution removes the complexities associated with deploying and maintaining traditional high-performance systems yielding faster time to results, ease of use and management, and world-class performance to meet mission-critical needs.
Scalable, modular components and engineered solutions
Seagate provides Intelligent Information Infrastructure solutions to meet the needs of "do-it-yourself (DIY)" organizations that want to select components and build custom systems to fully integrate solutions for object storage; these software independent systems can meet the capacity and performance demands of next generation workloads, including:

Engineered solutions for object storage  
Reference architectures for open source and software defined storage
Private cloud appliances for backup and recovery
Modular, scalable components for DIY

Custom, modularized systems for OEMs
Seagate has provided over 2 million enclosures and 17,000 petabytes of storage for our OEM customers. Seagate's open Intelligent Information Infrastructure program provides private label systems and components for vendors that want to deliver the highest quality information infrastructure products to their customers. Included among these offerings are:

Drives (HDD, SSD, Hybrid)
Data enclosures
Embedded server modules
Comprehensive solution partnership based on customer requirements

Cloud Backup/Restore, Disaster Recovery and Rapid Archive Storage services
Seagate, EVault and its partners provide secure public cloud solutions for organizations that need backup, disaster recovery or active archive but do not want to own or maintain the infrastructure. With over 25,000 cloud backup and recovery customers, the Seagate cloud services ecosystem provides a large breadth of backup, recovery, and rapid archive solutions for organizations of all types and sizes. These include:

Cloud Backup
Cloud Disaster Recovery
Rapid Archive
Services (deployment, migration, integration, performance tuning, upgrades, etc.)
For more information about Seagate Cloud Systems and Solutions please visit www.seagate.com/css.
As part of today's news, Seagate also announced new Cloud Systems and Solutions products and product updates. For more information, please visit the Intelligent Infrastructure blog on Seagate Social:
ClusterStor™ 9000 solution, available today, is a fully integrated Lustre-based scale-out solution designed for HPC and Big Data customers who need to reliably plan, deploy and sustain maximum optimal application performance. Delivering superior converged scale-out storage quality and performance efficiency, the ClusterStor 9000 solution delivers 50% higher performance than previous ClusterStor platforms. Additional customer benefits include GridRAID™ technology, which provides 400% faster rebuild times, reduced management tasks and operating costs; and unique architecture that eliminates storage I/O bottlenecks and enables efficient linear scalability achieving maximum sustainable performance per disk drive.
ClusterStor™ Secure Data Appliance (SDA), part of the ClusterStor family of parallel file systems solutions, has received security certification, validating its design to satisfy US government Intelligence Community Directive (ICD) 503 policies and related (DCID 6/3 PL4) cross-domain solution requirements. ClusterStor SDA supports security capabilities to safeguard against internal and external threats throughout the data lifecycle.
The EVault® Enterprise Backup & Recovery Appliance now accommodates up to 100TB of usable capacity. Seagate's large portfolio of backup and recovery appliances have been built from the ground up to both connect and replicate to the cloud. The architectural flexibility inherent to the Seagate appliances makes them perfect for heterogeneous environments demanding up to a full petabyte of data storage and extreme computing power.
About Seagate
Seagate is a world leader in storage solutions. Learn more at www.seagate.com. Follow Seagate on Twitter, Facebook, Google +, YouTube, Instagram and subscribe to our blog.
©2014 Seagate Technology LLC. All rights reserved. Printed in the United States of America. Seagate, Seagate Technology, the Wave logo, EVault, ClusterStor, Lustre, GridRAID and Intelligent Information Infrastructure are trademarks or registered trademarks of Seagate Technology LLC in the United States and/or other countries. All other trademarks or registered trademarks are the property of their respective owners. When referring to drive capacity, one terabyte, or TB, equals one thousand billion bytes. Your computer's operating system may use a different standard of measurement and report a lower capacity. In addition, some of the listed capacity is used for formatting and other functions and will not be available for data storage. The export or re-export of hardware or software containing encryption may be regulated by the U.S. Department of Commerce, Bureau of Industry and Security (for more information, visit www.bis.doc.gov) and controlled for import and use outside of the U.S. Actual data rates, system performance and rebuild times may vary depending on operating environment and other factors. Seagate reserves the right to change, without notice, product offerings or specifications.
---
1Source: EMC Digital Universe Study, with data and analysis by IDC, April 2014
[2]Source: IDC Research, IDC #247106, Structured Versus Unstructured Data: The Balance of Power Continues to Shift, Analyst(s): Ashish Nadkarni Natalya Yezhkova, March 2014
[3] Gartner research G00254269, Critical Capabilities for Object Storage Published: 11 February 2014 Analyst(s): Arun Chandrasekaran, Alan Dayley.