Seagate's Kinetic Open Storage Platform Delivers Radically Simpler and More Efficient Cloud Architecture
CUPERTINO, California, USA —Seagate Technology plc (NASDAQ:STX), a world leader in storage solutions, today announced that it is redefining cloud storage infrastructure with the unveiling of its internally developed Seagate® Kinetic Open Storage platform. A significant leap forward in scale-out storage architectures, the Seagate Kinetic Open Storage platform simplifies data management, improves performance and scalability while lowering total cost of ownership (TCO) of average Cloud infrastructures by up to 50 percent.
"With the Seagate Kinetic Open Storage platform, our internal R&D teams have designed an unique, first-of-its-kind storage architecture to enable cheaper, more scalable object storage solutions that free up IT professionals from having to invest in hardware and software they don't need — while empowering them with the most innovative storage technology available," said Rocky Pimentel, Seagate executive vice president and chief sales and marketing officer. "This technology optimises storage solutions for a new era of cloud storage systems, while drastically reducing overall costs."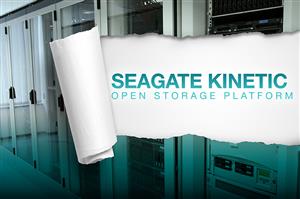 Seagate Kinetic Open Storage platform
The Seagate Kinetic Open Storage platform eliminates the storage server tier of traditional data centre architectures by enabling applications to speak directly to the storage device, thereby reducing expenses associated with the acquisition, deployment, and support of hyperscale storage infrastructures. Companies can realise additional cost savings while maximising storage density through reduced power and cooling costs, and receiving potentially dramatic savings in cloud data centre build outs.
"At Yahoo, we're always looking for new ways to improve efficiency and simplicity of our infrastructure and we're excited about Seagate's Kinetic Open Storage platform. Industry has proven time and again that Ethernet always wins — seeing this down to the drive level is a fantastic optimisation," said Kevin Graham, principle storage architect, Yahoo Infrastructure Group. "To that point, we've been engaging with Seagate for the past several months on how we can leap ahead of the architectural status quo to provide the most efficient, reliable storage for our users."
"Seagate's ambitious move into the storage platform space is a natural extension to their core storage business and their new Kinetic Open Storage platform is one that could redefine how data centres are architected going forward," said, Laura DuBois program vice president IDC Storage Systems, Software and Solutions. "Implementing this technology will empower data centres with more scalable solutions at an industry-low TCO — driving change in the world of storage."
The platform leverages Seagate's expertise in hardware and software storage systems to integrate a new key/value API - which will be open sourced - and Ethernet connected with Seagate hard drive technology. Designed for rapid implementation and deployment in any cloud storage software stack, this technology can be deployed across a portfolio of storage devices enabling system builders and software developers to design new solutions that will deliver against a full array of cloud data centre use cases.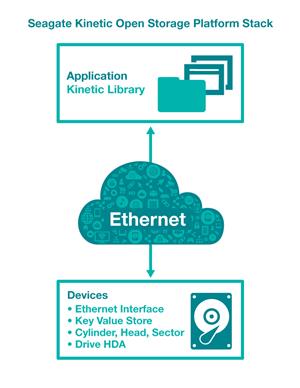 Seagate Kinetic Open Storage platform - Diagram
Redefining hardware and software capabilities, the platform enables cloud service providers and independent software vendors to optimise scale-out file and object-based storage — simply and effectively. With the Kinetic Open Storage platform, applications can now manage specific features and capabilities and rapidly implement and deploy in any cloud storage software stack. The technology also increases I/O efficiency by removing bottlenecks and optimising cluster management, data replication, migration and active archive performance.
To learn more about the Seagate Kinetic Open Storage platform or to download tool kits and start developing an improved, simplified storage architecture visit http://seagate.com/www/kinetic.
Strong Industry Support for Seagate Kinetic Open Storage Platform: In a display of strong support for this new technology, the following leading open source Cloud hardware and software providers are now developing on this platform to improve the scale-out capabilities of storage architectures.
"Basho prides itself on being able to simplify data storage and operations" said Justin Sheehy, CTO for Basho Technologies, Inc. "With Seagate's Kinetic Open Storage platform, we are able to expand upon this mission and for the first time develop applications that talk directly to the storage device. This enables us to deliver a new class of storage unparalleled in the industry today."

"Dell is the leader in hyperscale data centre solutions because we're intently focused on delivering cost-effective solutions, tailored to address our customers' workloads and maximise application performance, and the Seagate Open Source Kinetic platform helps us on that mission," said Tracy Davis, vice president and general manager of Dell's Data Centre Solutions group. "By implementing Kinetic technology into our customers' hyperscale environments, we are providing them with highly scalable solutions that reduce storage complexity and cost through increased integration."
"At EVault we are constantly seeking out the most innovative IT solutions that will empower our company with the edge we need to succeed and Seagate's Open Kinetic Storage platform definitely delivers," said Terry Cunningham, president and general manager of EVault, a Seagate company. "We have been engaged with this technology over the past several months and are a big believer that it can truly optimise both new and existing storage platforms, while providing more flexibility than traditional storage architectures."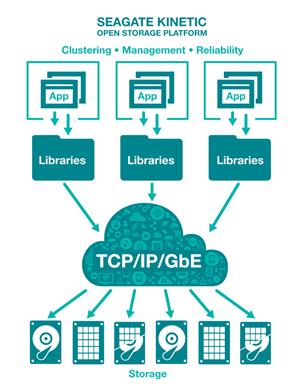 Seagate Kinetic Open Storage platform - Diagram
"Key/ value data storage and IP interface drive modules are an important trend for scale-out storage systems and Huawei has been a leader in delivering massive storage systems with these technologies," said Yuan Yuan, senior director of Huawei's IT Massive Storage. "We are excited to support Seagate's Kinetic technology, which delivers extra benefits by integrating key/value and Ethernet/IP into storage devices."
"We are excited to integrate this technology into our products as we believe that an open platform such as this is the future of storage," said Steve Ichinaga, senior vice president and general manager for Hyve Solutions. "Implementing Seagate's new Kinetic technology means we can design and build industry-leading platforms that deliver truly optimised solutions for our web-scale customers."
"We are excited about Seagate's Kinetic Open Storage platform and the potential it has to make open storage technology even more compelling," said Aaron Sullivan, principal engineer at Rackspace. "There is tremendous growth in the cloud storage solutions market and it is great that Seagate shares the same passion for open standards that Rackspace does."
"Seagate has been a trusted partner for many years, and we are excited to integrate this technology into our products," said Jeff Thomas, senior vice president of systems and solutions for Newisys, a division of Sanmina. "Seagate's new Kinetic Open Storage platform enables us to design cutting-edge platforms that provide our customers with industry-leading freedom and performance all while continuing to deliver robust, reliable solutions that they can count on."
"Supermicro is laser-focused on delivering optimal solutions for cloud data centres and we are excited to implement Seagate's Kinetic technology," said Charles Liang, CEO of Supermicro. "We believe that in working with Seagate on this new object-storage technology, we can deliver significant advantage in cost savings for scale-out storage."
"The Kinetic Open Storage platform enables next-gen architectures for deploying cloud storage, particularly software-defined storage," said Joe Arnold, CEO of SwiftStack. "With growing interest and adoption of open source technologies, like OpenStack Object Storage, Seagate is proving its position at the forefront of storage innovation."
"In the last few years, we have been shipping an object-based storage solution in our ClusterStor™ offering, and we clearly see object-based storage as a key part of our future," said Ernest Sampias, CEO for Xyratex. "What the Seagate team is doing fits together nicely with our strategy. We are pleased to partner with them and bring improved performance and scalability to our customers."
About Seagate
Seagate is a world leader in storage solutions. Learn more at www.seagate.com . Follow Seagate on Twitter, Facebook, YouTube, Instagram and subscribe to our blog.
Copyright 2013 Seagate Technology LLC. All rights reserved. Printed in the United States of America. Seagate, Seagate Technology and the Wave logo are trademarks or registered trademarks of Seagate Technology LLC in the United States and/or other countries.