Creating or adding a project as Reseller 
If you want to create your first project after completing the account registration click on Go to Projects and follow the steps below.  
To add a new project, click on Go to Projects then click on Add Project button then and follow the steps:
1 – Select Service 
Annual Plan - Commit to an annual subscription and save more on your monthly cost  
12-month Term 

Flat per-unit per-month fee with option to renew 

Expanded subscription services like power-up or power-down device quantities, software and hardware upgrades 
Device reconditioning included  
Monthly - No annual commitment. Pay month on month until you need the Storage services 
Month-to-month term with a one month minimum 

Flat per-unit per-month fee in an evergreen subscription format for flexibility on projects with unpredictable timelines 
Basic subscription services like multi-user management and virtual assist are included 
Clique Continue
2 – Select Configuration 
Select the devices and accessories as needed 
Note: You can up to 3 devices through self-service. Although you can contact our Presales team via chat to add additional products to your order. 
3 – Shipping details 
Fill out your project details  
Project name 

Project description 

Specify Storage 

Estimated End Date  
Contact info for Product End-User 
Provide a contact information for the user responsible for product administration. 
Note: If the person is an existing user, you may search the name in our Lyve Hub database 
Contact Information for Sub-User 
Please provide the contact information for the user who will manage this project and be responsible for monitoring usage, billing by project and product user requests. 
Note: If the person is an existent user, you may search the name in our Lyve Hub database 
Please provide shipping details by clicking on Add New Address button 
Note: You may search Lyve database to check if a company or user has been previous registered.  
4 – Terms and Conditions 
Read and agree to Terms and Conditions 
5 – Confirm Order 
Please review and submit your order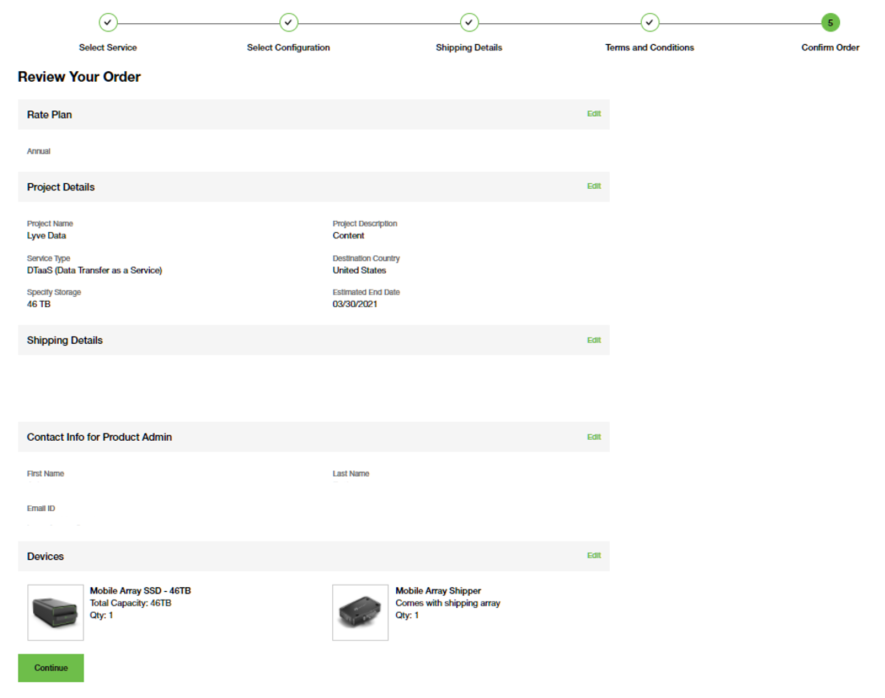 Once your order is processed a notification will be sent to the email registered to the account. 
To review the order, please select the project then click on the magnifier icon to view details. 
Note: If an order status is showing as pending you may not be able to review details of your order.