By Darren Soh | Architectural Photographer
My name is Darren Soh, and I am an architectural photographer. I have been systematically photographing the built landscape of Singapore for the last 12 years—first on film and then with digital cameras when the technology became more advanced and yielded better-quality images.
As you can imagine, over the years, I have accumulated terabytes and terabytes of raw data from my digital cameras. These are just bits and bytes to the layman, but for me, they contain important images that can never be replaced should they ever be destroyed.
Singapore is a country where development and redevelopment happens at a pace seldom seen in other countries. I often joke that you can leave Singapore for a month and when you return, an old building will be demolished and a new shopping mall would have opened. It may sound like I am exaggerating, but it is closer to the truth than I care to admit. It is because of this pace that I have committed myself to documenting not just old buildings in Singapore but also the construction of new buildings, because all buildings become old at some point, and construction photography captures the liminality of a space that can never be recaptured once a certain phase of construction has past.
A lot of my work focuses on vernacular architecture like cinemas and HDB Public Housing blocks and estates. For example, I made images of the iconic Queenstown Cinema and Bowl before it was demolished in 2013, and also of HDB estates like Rochor Centre, which is undergoing demolition now, and of more ordinary and easily missed blocks like Block 406 Clementi Avenue 1 that was demolished in 2017.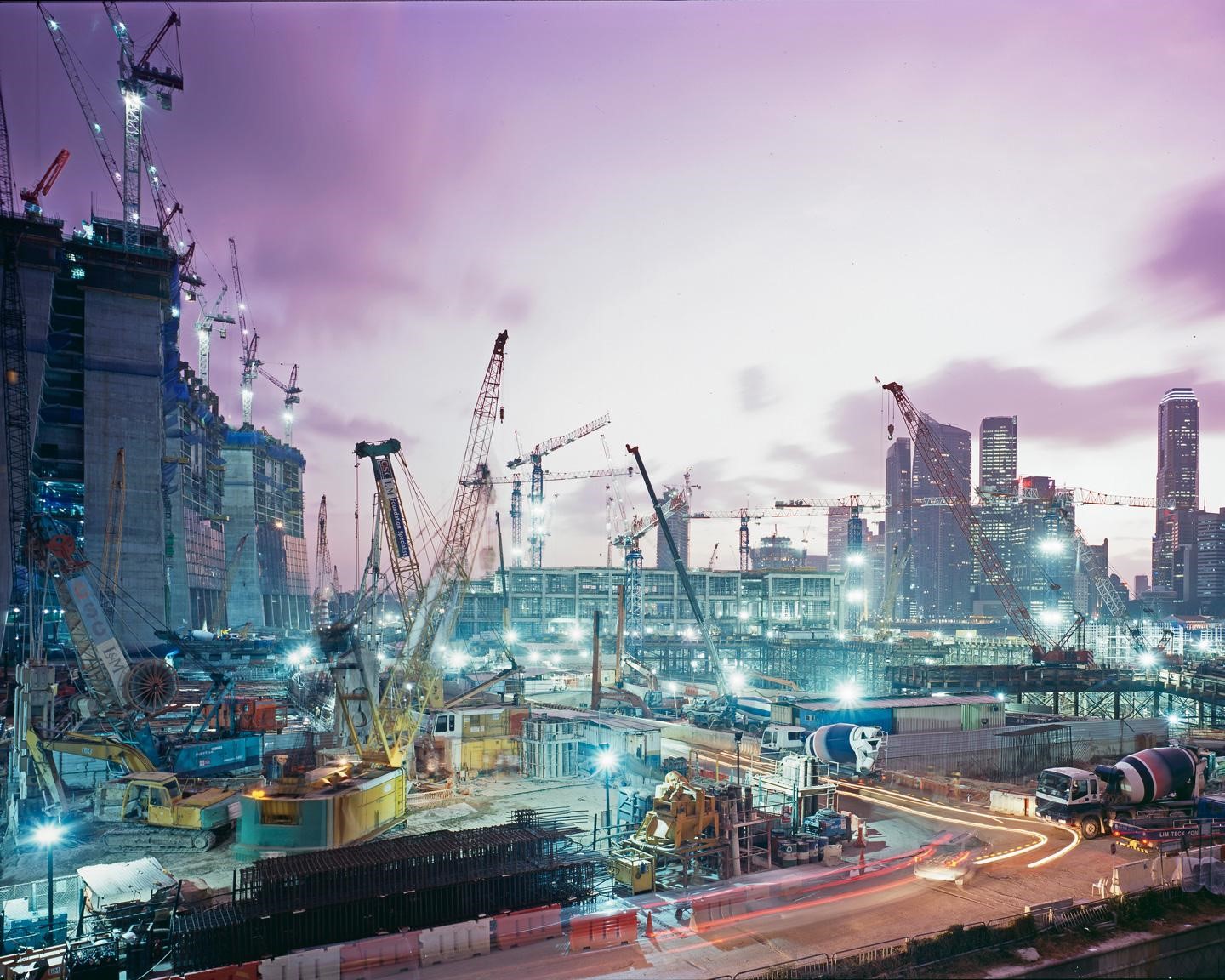 Construction of Marina Bay Sands, Singapore, early 2009 © Darren Soh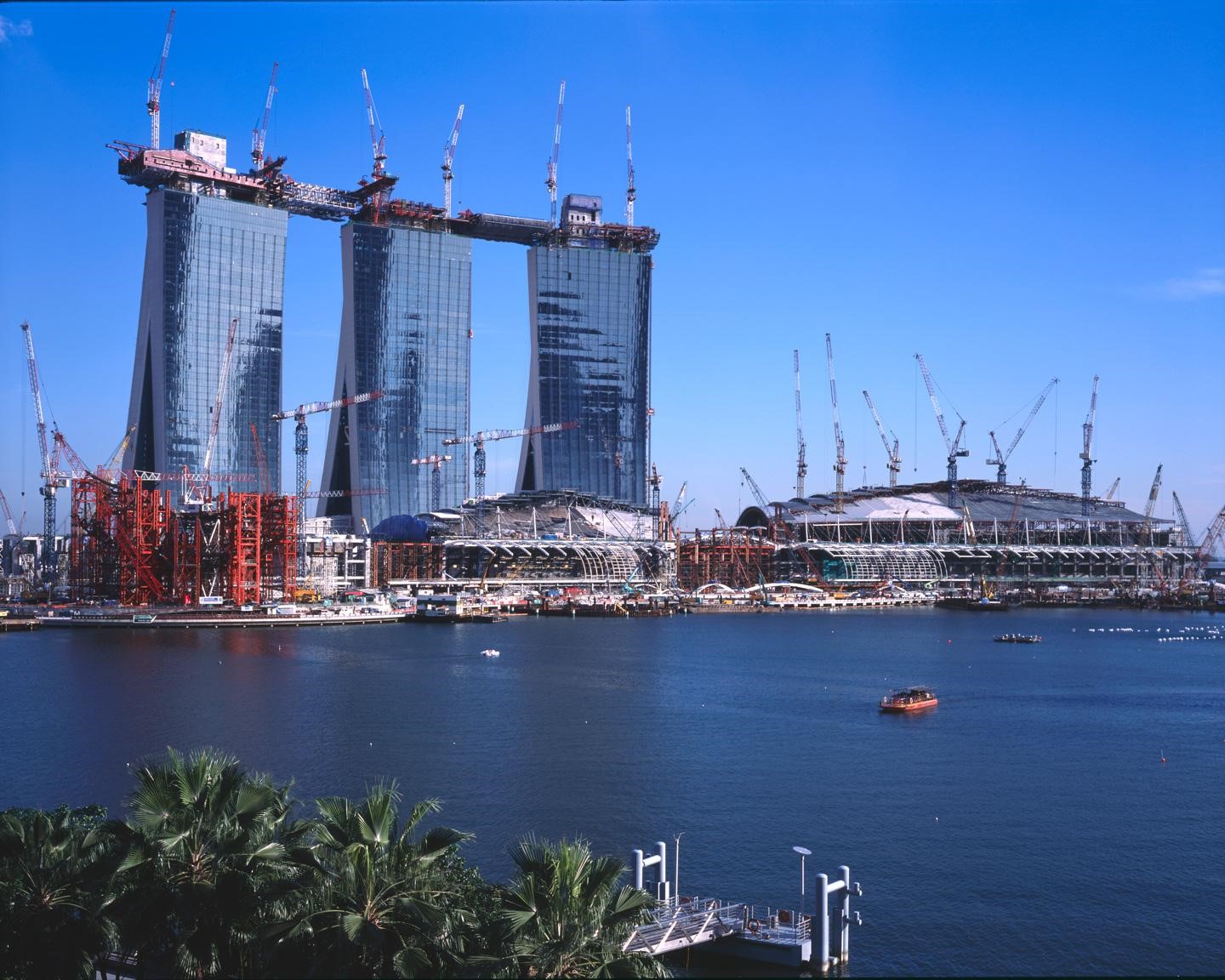 Construction of Marina Bay Sands, Singapore, late 2009 © Darren Soh
In the digital era, archiving and saving data is a double-edged sword. It should technically be easier to save images, because you can duplicate as many copies of the digital images as you would like. The reality is quite different, however, because many photographers I know (myself included at one time) live dangerously by having next to no backup system. Having files stored in different geographical locations is an obvious option, and cloud storage has come to the forefront in the support of photographers in this area. However, local storage and backup is still important, and this is where Seagate is helping photographers worldwide.
Ever since photographers moved from film to digital, they have had to store massive amounts of data on hard disk drives (HDD). As the resolution in digital cameras started to increase dramatically from the late 2000s and early 2010s, so did file sizes, and HDD sizes have followed suit as well. As of 2018, it is not uncommon for working photographers to shoot 100GB to 150GB of images in a day, which is one third to one half the size of an average HDD installed in a desktop computer just ten years ago.
Personally, I have progressively used HDDs of 1TB, then 1.5TB, then 3TB, before jumping to 6TB and 8TB drives. The latter two sizes had sufficed for awhile within 2-and 4-bay RAID enclosures, but now, in order to consolidate all my archives, I have moved to one of the newest drives on the market—the Seagate® IronWolf® Pro 12TB drive.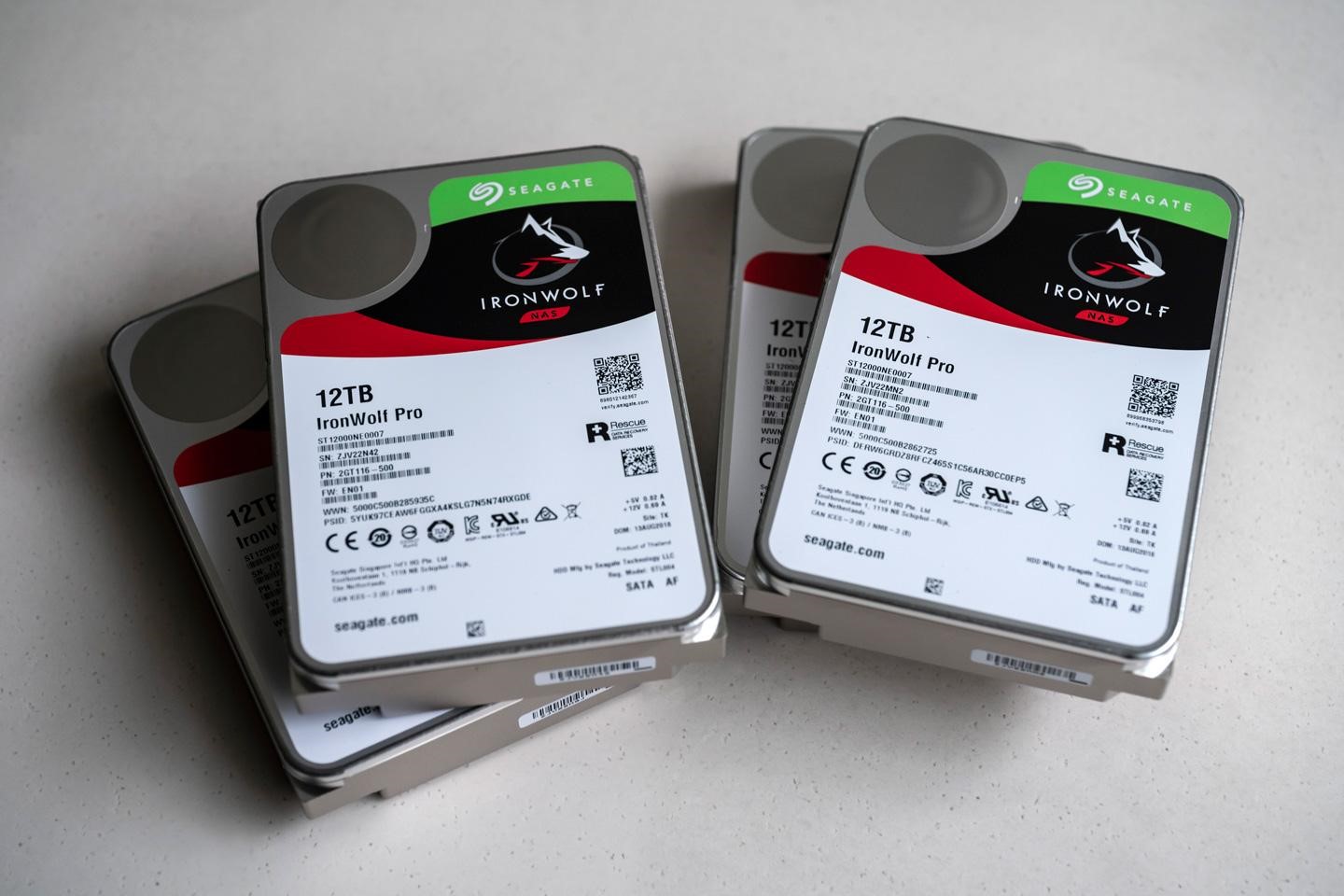 12TB Seagate IronWolf Pro HDDs 2018 © Darren Soh
The Seagate IronWolf Pro series of HDDs are the highest-tier hard drives available for NAS storage from Seagate and come with a five-year limited warranty, as well as a two-year subscription to the Seagate Rescue Data Recovery Services plan. At the time of writing this post, Seagate had just released the 14TB version of the IronWolf Pro HDDs, so users who require even more storage space now have more options. In addition, all IronWolf series HDDs come with Seagate IronWolf Health Management built in, which allows you to monitor the health of your drive when used with a partner system like the Synology Diskstation DS918+.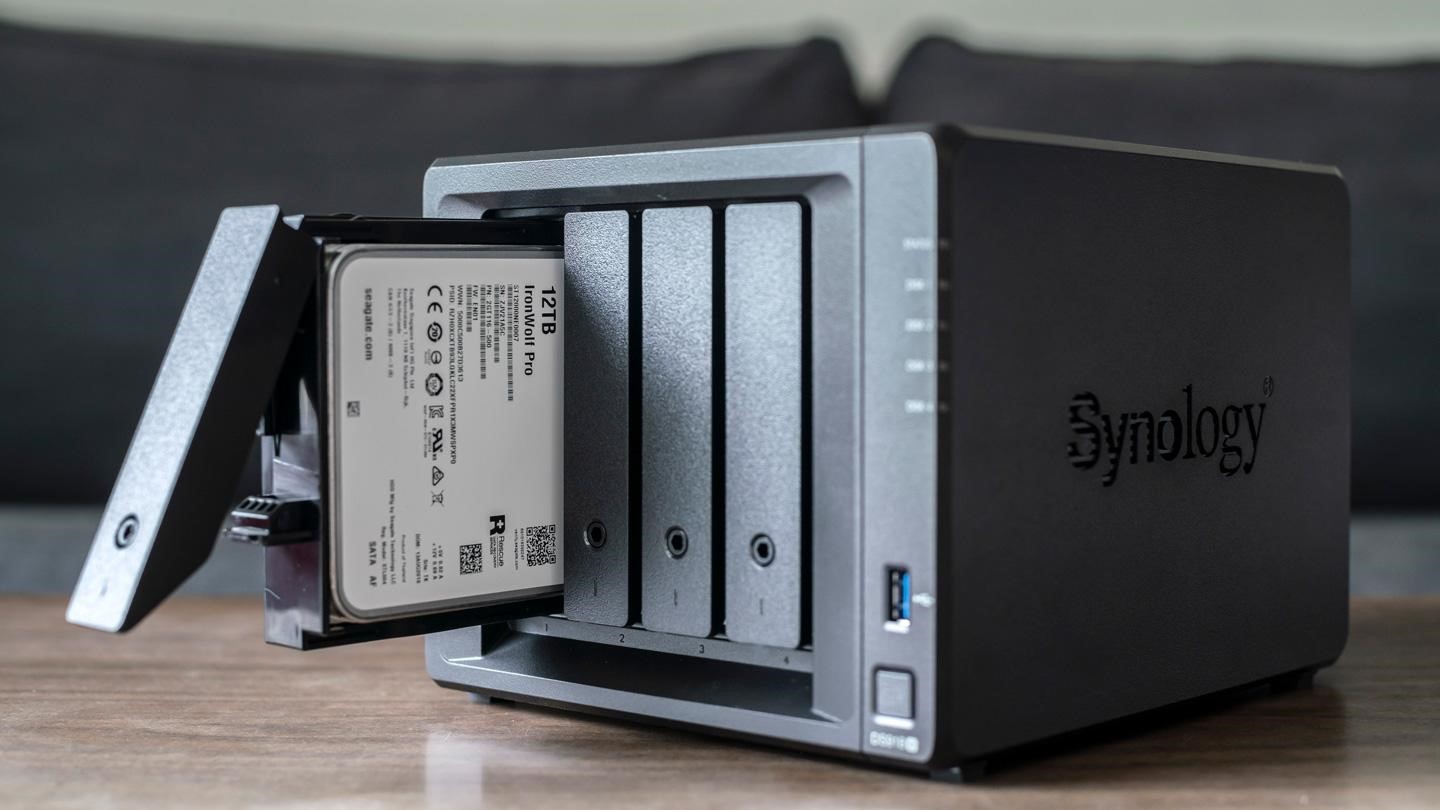 Synology DiskStation DS918+ 2018 © Darren Soh
I have previously relied on RAID enclosures, which did not allow me to configure my drives in a RAID 6 configuration (which, for the paranoid, has distributed parity across disks and provides fault tolerance against two drive failures). Those RAID enclosures have been configured in either RAID 5 or RAID 10, and I have had multiple drive failures on not one but two RAID 5 arrays previously. With the Synology DiskStation DS918+, I can now configure my NAS in RAID 6, and with four Seagate IronWolf 12TB drives, I get about 24TB of storage space.
In addition, should I feel the need to add more drives, I can use the Synology Expansion Unit DX517 to add up to five more drives with on-the-fly volume expansion with zero downtime to the array already set up.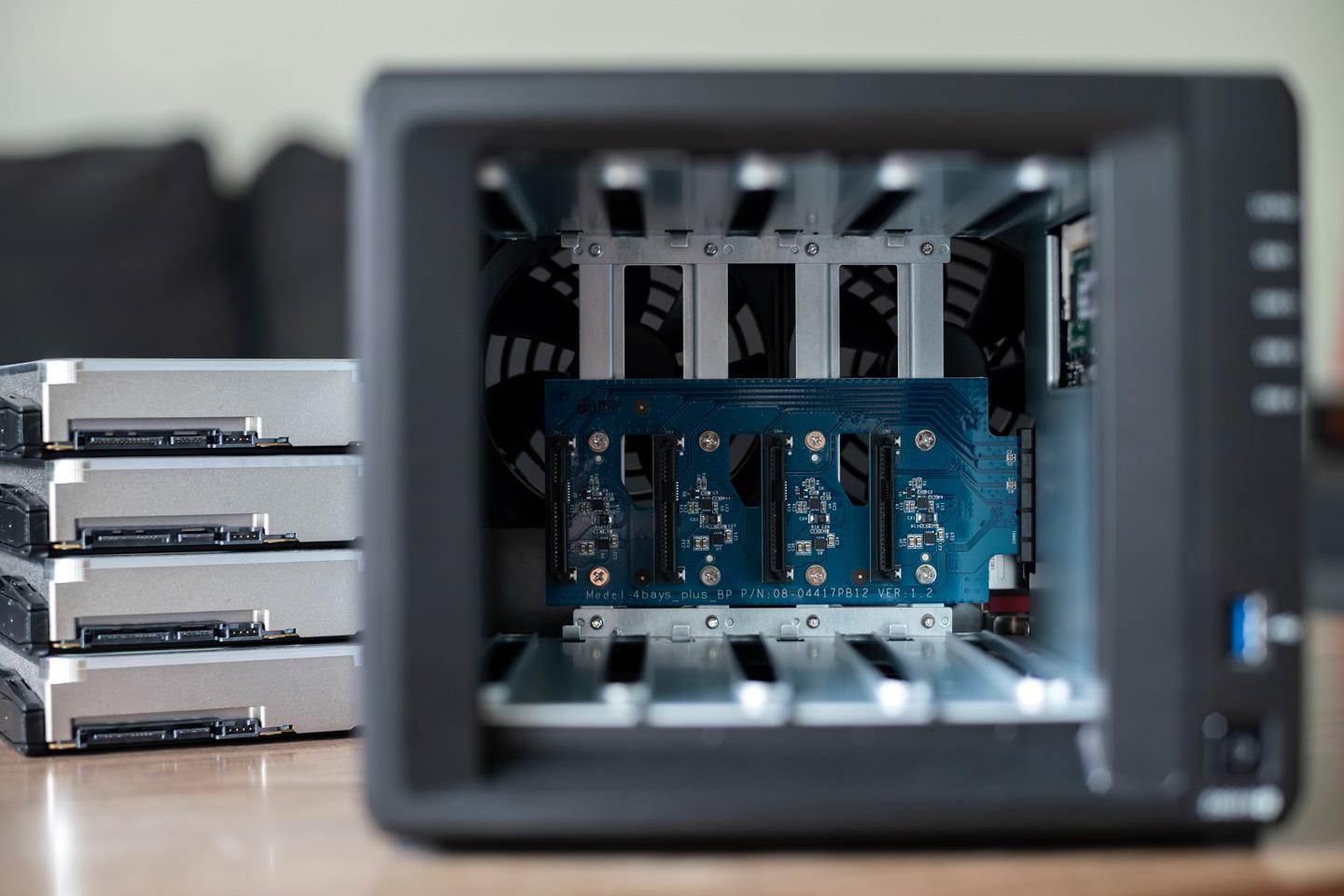 Synology DiskStation DS918+ with 4 × 12TB Seagate IronWolf Pro HDDs 2018 © Darren Soh
A small but nonetheless welcome feature of the Synology DiskStation DS918+ is its screw-less tray system when mounting 3.5-in HDDs like the Seagate IronWolf and IronWolf Pro series. The ease of setup using Synology's DiskStation Manager (DSM) ensures that even IT-challenged individuals like myself can have the NAS set up and running smoothly.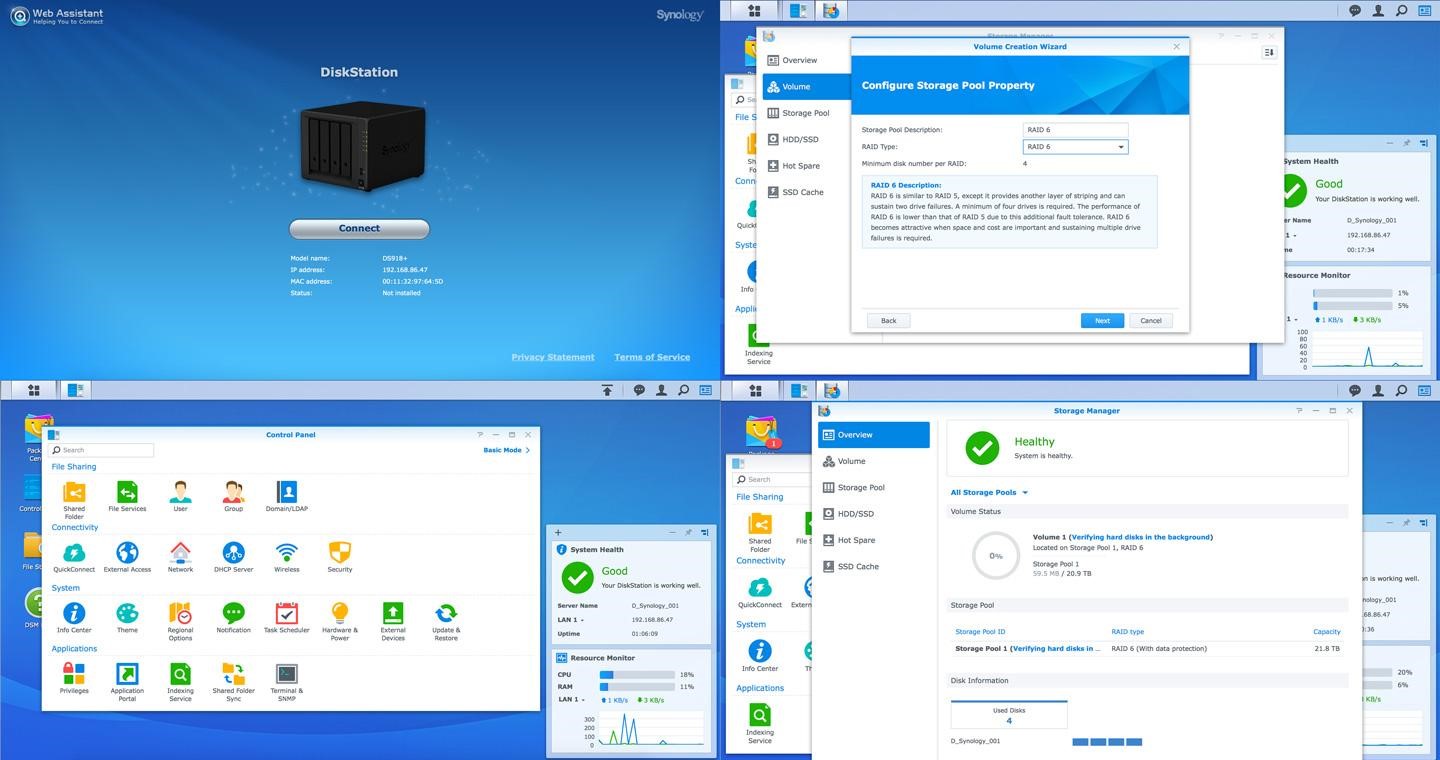 Screenshots of the Synology web-based DSM © Darren Soh
With Synology's DSM, I was able to quickly set the DS918+ and check on the health status of all the HDDs. In addition, a slew of customizable apps allow me to access the files on the NAS even if I am on the move and not connected to the LAN within the confines of my office. Synology's QuickConnect allows me to do so without having to resort to overly technical settings (for me anyway) like port-forwarding.
Also, with DSM, I can schedule backups to the NAS from my connected computers in the office so that copies of work files and important images are automatically transferred to the NAS and kept safe.
Some of the apps I have downloaded to my iPhone are DS finder, DS file, and DS photo, all of which allow me to control the DS918+ from my mobile phone even if I am geographically far removed from my office, so long as both the NAS and myself are connected to the Internet.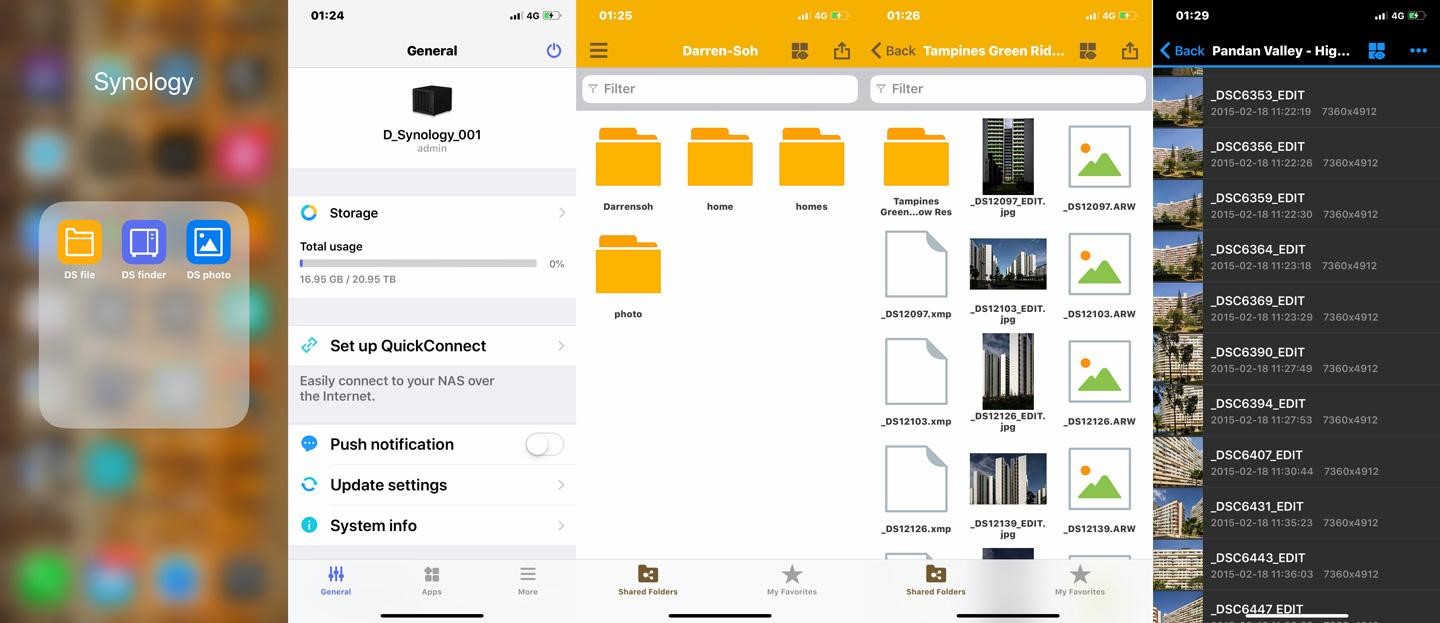 Screenshots of the Synology iOS apps © Darren Soh
Assured that I have done my utmost in ensuring that my local data is easily accessible in my home network, and more importantly, sufficiently protected to the best of my ability, I can then concentrate on what I do better—making images of Singapore's architecture and built landscape. The less time I spend on figuring out my storage and worrying about my data, the more time I can spend photographing.
More independent information about the Seagate IronWolf Pro 12TB HDD can be found here:
https://www.tomshardware.com/reviews/seagate-ironwolf-pro-12tb-hdd,5443.html
https://www.nikktech.com/main/articles/pc-hardware/storage/hard-disk-drives/8370-seagate-ironwolf-pro-12tb-sata-iii-hdd-review
https://aphnetworks.com/reviews/seagate-ironwolf-pro-st12000ne0007-12tb