| | | | | |
| --- | --- | --- | --- | --- |
| | | | | |
| | | | | |
| Form Factor | 2.5 inch | 3.5 inch | 2.5 inch | 3.5-inch |
| Perfect for | Laptop storage, mobile storage, all-in-one storage, external storage | Desktop storage, all-in-one storage, home servers, DAS devices | High performance laptop and mobile PC applications, gaming | High performance desktop, creative pro desktop applications, gaming, DAS devices |
| Capacity | 5TB, 4TB, 2TB, 1TB, 500GB | 8TB, 6TB, 4TB, 3TB, 2TB,1TB, 500GB | 1TB, 500GB | 14TB, 12TB, 10TB, 8TB, 6TB, 4TB, 2TB |
| Warranty | 2 years | 2 years | 5 years | 5 years |
| | Find a Retailer | Find a Retailer | Find a Retailer | Find a Retailer |
YOUR DATA DESERVES THE GUARDIAN SERIES
The Best Comes From Within
Seagate has dominated the data storage industry for 40 years.
We understand your unique data storage challenges, and crafted BarraCuda Pro 14TB 3.5-inch desktop hard drives to help you achieve your goals.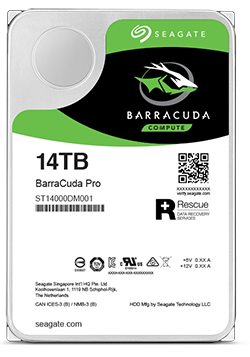 BARRACUDA PRO 2.5-INCH HARD DRIVES
Thinnest and Lightest
With a 7mm z-height, BarraCuda Pro 2.5-inch hard drives are a seamless fit for thin laptop upgrades and similar small form factor systems.
These 7200-RPM drives are available in capacities up to 1TB with data rates up to 160MB/s for fast file transfers.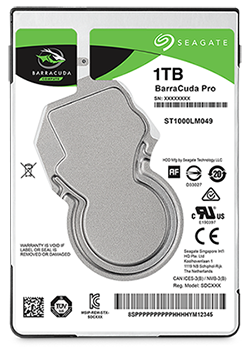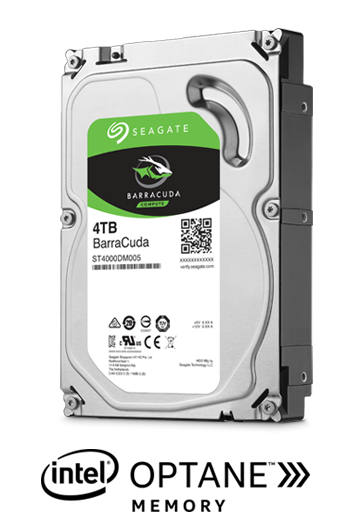 INTEL NVM PERFORMANCE
HDD Capacity. SSD Attitude.
BarraCuda drives deliver more than expected when coupled with Intel® Optane™ memory, which is a revolutionary class of non-volatile memory.
SSD-like performance and responsiveness
Massive capacity
2× the speed of standard drives for boot and load applications1
Affordability with zero compromises
1 Testing conducted by Seagate using SYSmark® 2014 SE. Results have been rounded for display purposes and may vary based on different system hardware, software and configuration.
2.5-INCH BARRACUDA PRO AND BARRACUDA HARD DRIVES
Big Capacity in a Small Form Factor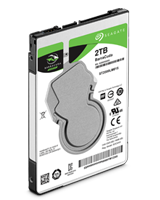 Laptop and Mobile Storage (7mm)
Choose from 500GB to 2TB of massive storage for all your applications and data needs. Experience the highest capacity and thinnest 2.5-inch, 7mm hard drive.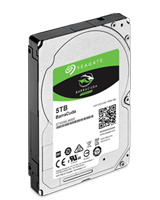 External and All-in-One PC Storage (15mm)
Take advantage of the 2.5-inch, 15mm form factor drive in 3TB, 4TB, and 5TB capacities. Amazing storage for your important work files.
3.5-INCH BARRACUDA HARD DRIVES
Unrivaled Desktop Legacy
Built on proven reliability and innovation, BarraCuda hard drives are available in an industry-leading mix of capacity and price point options to fit any budget.
MULTI-TIER CACHING TECHNOLOGY
Optimized Read and Write Data Flow
All hard drives in the BarraCuda family come equipped with Multi-Tier Caching Technology (MTC).
RESCUE DATA RECOVERY PLANS
Just in Case
Rescue Data Recovery Plans provide peace of mind for creative pros and performance PC users alike. Plans come standard on BarraCuda Pro.
Purchase a BarraCuda Pro drive and stay covered for 2 years.1
1. Rescue Data Recovery Plans may require registration.
YOUR DATA MATTERS TO US
Trusted Dependability
The BarraCuda family of reliable hard drives is here to stay. BarraCuda Pro comes equipped with a 5-year limited warranty.
| | | | | | | |
| --- | --- | --- | --- | --- | --- | --- |
| | | | | | | |
| | | | | | | |
| Form Factor | 2.5 inch | 3.5 inch | 2.5 inch | 3.5-inch | 2.5-inch | 3.5-inch |
| Perfect for | Laptop storage, mobile storage, all-in-one storage, external storage | Desktop storage, all-in-one storage, home servers, DAS devices | High performance laptop and mobile PC applications, gaming | High performance desktop, creative pro desktop applications, gaming, DAS devices | Gaming, creative pro applications | Gaming, creative pro applications |
| Capacity | 5TB, 4TB, 2TB, 1TB, 500GB | 8TB, 6TB, 4TB, 3TB, 2TB,1TB, 500GB | 1TB, 500GB | 14TB, 12TB, 10TB, 8TB, 6TB, 4TB, 2TB | 2TB, 1TB, 500GB | 2TB, 1TB |
| Performance | Multi-Tier™ Caching technology | Multi-Tier Caching technology | 7200 RPM | 7200 RPM | 5× faster than traditional HDDs | 5× faster than traditional HDDs |
| Key Feature | High capacity in small size | Versatile storage | High performance | High performance | Faster Boot Times | Faster Boot Times |
| z-height | 7mm, 15mm | Desktop or desktop-related storage only | 7mm | Desktop or desktop-related storage only | 7mm | Desktop or desktop-related storage only |
| Warranty | 2 years | 2 years | 5 years | 5 years | 5 years | 5 years |
| | Find a Retailer | Find a Retailer | Find a Retailer | Find a Retailer | Find a Retailer | Find a Retailer |