IMPORTANT: This article applies to the following macOS version:
macOS 14 (Sonoma)
macOS 13 (Ventura)
macOS 12 (Monterey)
macOS 11 (Big Sur)
Need Help?
It is important to keep the following in mind when formatting to ExFAT:
ExFAT is not compatible with Time Machine. If you are wanting to use Time Machine, format your drive APFS.
ExFAT drives must be safely ejected to prevent corruption because ExFAT is not a journaled file system
When using between macOS and Windows, drives should always be formatted on macOS because not all Windows allocation unit sizes (cluster sizes) are supported by macOS which will prevent the drive from mounting
Looking for a different formatting option?
Steps:
IMPORTANT: Reformatting the drive will erase all data on the drive, so you should copy any data you want off the drive prior to formatting.
Note: If you would prefer a video tutorial of these steps instead, please click the thumbnail below.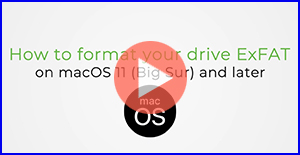 Open Disk Utility
To open Disk Utility - Open Finder > Applications > Utilities > Disk Utility


 Click View in the upper left and select Show All Devices



Select the non-indented entry, you will see Media in the name



Click the button labeled Erase in the menu which will bring up this window. 
NOTE: If you don't see scheme, then make sure that all devices are showing and the non-indented entry is selected. Check step 2 to confirm Disk Utility is Showing All Devices


Provide a Name for the volume

Set Scheme to GUID Partition Map


Set Format to ExFAT



WARNING:

Formatting the drive will erase all data on the drive, so you should copy any data you want off the drive prior to formatting.


Click Erase, Disk Utility will start formatting the drive


Once complete, click Done


The drive should now be formatted ExFAT, this can be confirmed by selecting the indented entry which will now show ExFAT Volume under the name you provided