During the Toolkit installation process, you may receive the following message about required updates to complete the installation: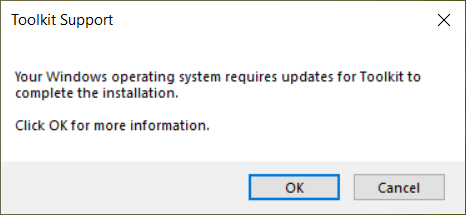 This message is typically seen only on Windows 7 machines. To resolve the issue, download the Microsoft Windows 7 update using the correct link based on your operating system type (32 vs 64-bit):
Unsure if your PC is 32-bit or 64-bit? Follow these instructions:
Note: This is based on Windows 7 where this issue is most common.
Click the Start button
Click Control Panel
Depending on view, the path will vary:

If Control Panel is in a category view, click System and Maintenance, then click System on the next screen
If Control Panel is in Large or Small icon view, double-click System

Next to System Type, you will see 32-bit Operating System or 64-bit Operating System