The legal world is undergoing a transformation as COVID-19 continues to alter aspects of data governance and eDiscovery practice.
Data governance includes identification and segregation of data based on sensitivity of the content using information rights management. It encompasses the management of access rights and data loss prevention features such as encryption, artificial intelligence (AI)-enabled auto labeling of sensitive information, watermarks, and visual indicators to ensure data is safe at rest, in use, and in motion. It also provides easier search and findability of documents.
Overall, data governance fosters data security that requires a system to maintain three salient features proposed by law (see the Federal Information Security Modernization Act of 2014). These are (a) data confidentiality, which means preserving authorized restrictions on access and disclosure, (b) data integrity, which means guarding against improper data modification or destruction and includes ensuring information non-repudiation and authenticity, and (c) data availability to ensure timely and reliable access to and use of data.
Litigation professionals, attorneys, and paralegals, as well as federal and state court systems, are bracing for a modification to the procedures, manner, and exchange of discovery data in today's post-pandemic world—a world in which virtual interrelationships are more prevalent. With many working from the confines of their homes under the expectation of maintaining stringent data production discovery timelines, the challenge is to stay compliant with the law and to meet the Electronic Discovery Reference Model (EDRM) guidelines.
The first step in the EDRM workflow is information management—in other words, data governance. This highlights the importance the reference model attaches to data governance. Good data governance forms the backbone of search, retrieval, and protection of data, leading to better eDiscovery. In 2015, Rule 37(e) of the Federal Rules of Civil Procedure (FRCP) was updated, requiring litigants to take reasonable measures to preserve electronically stored information (ESI). This requirement brought the importance of data governance to the fore. Under the new rule, if a court finds a party is prejudiced due to loss of ESI, it may sanction the party who lost ESI for lack of reasonable measures to preserve ESI. Better and smarter data governance helps meet the requirements of law.
Mass Data Storage Solutions for Managing Data Governance
Among many issues confronted by eDiscovery practitioners, the transfer and hosting of data for legal review is most pressing. Working remotely in disjointed settings poses many difficult challenges. The lack of bandwidth on secure dedicated networks compound the problem—one that is not easily overcome. Data transfer requires intensive time and effort, resulting in adverse impacts to the data collection step of the EDRM. Similarly, the EDRM requirements of preservation and processing steps prior to legal review are a challenge because of the exacting standards of encryption requirements and safe keeping when the data is at rest.
In a typical litigation involving eDiscovery, the parties encounter a variety of disparate sources of information, including (a) active data from local drives, network shares, or emails, (b) cloud systems, (c) mobile devices, (d) offline sources, (e) backup data, and (f) data that is kept in "not easily accessible" areas (per FRCP Rule 26) such as legacy data storage systems. The data collection from these sources requires technical expertise.
Collected data must be moved at a fast speed—while maintaining security—to a safe and tamper-proof location either for preservation or processing prior to legal review. Most often, the size of the data sets involved is large, running in excess of hundreds of gigabytes or even terabytes. Maintenance of the confidentiality of data is of utmost importance. Since the data is collected in response to a discovery request in a litigation or a third-party subpoena, it usually harbors highly confidential information that requires advanced standards of encryption at rest and in transmission.
Fortunately, Seagate's new Lyve mass data storage platform provides a remedy for the problem.
The Lyve ecosystem offers a holistic solution to manage mass-capacity edge data transfers and frictionless cloud storage. Lyve Mobile data transfer as a service and Lyve Cloud storage as a service address key pain points in the legal industry—especially as they relate to eDiscovery needs. Leveraging its self-encrypting drive technology, Seagate provides a reliable, secure, and fast data transfer service that allows data to be transferred with little-to-no risk. The confidentiality, integrity, and availability of data is always maintained, ensuring that the critical objectives of data governance are accomplished. The Lyve mass data storage platform's modular building blocks are designed to work seamlessly together, comprising various data storage pieces that fit together like pieces of a puzzle.
Flexible, Limitless Cloud Storage with Stringent Security Standards
Lyve Cloud offers a new approach to cloud storage. Besides providing always-on availability and world-class security, it gives users complete flexibility to store only the data they need at any given time—all at a predictable cost based only on capacity used. This allows organizations to scale up and scale down the data they keep in Lyve Cloud in real time, as needed, with none of the typical cloud ingress and egress fees for adding or removing data. This makes Lyve Cloud ideally suited as a solution for issues around eDiscovery, because during litigation the scope and size of relevant data sets often change with little notice. Another challenge faced by law firms, eDiscovery vendors, and other organizations is the need to allow outside data to come into their systems, opening the door to the possibility of cybercrimes or the introduction of malware. Lyve Cloud can help with this issue by keeping data separate from the organization's regular day-to-day work systems. Additionally, data stored in Lyve Cloud is always encrypted at rest and in flight while object immutability defends data from ransomware, corruption, or deletion.
Seagate manages data transfer in a way that ensures chain of custody and maintains the provenance of the data as it moves through various locations and data domains. Seagate's Lyve Mobile data transfer as a service offers ways to move large data sets using mass-capacity drives from edge to cloud and to any data center in a secure, confidential way. This service is especially useful in patent litigations requiring movement of large schematic design files that need to be hosted at a party's law firm office for inspection under court order.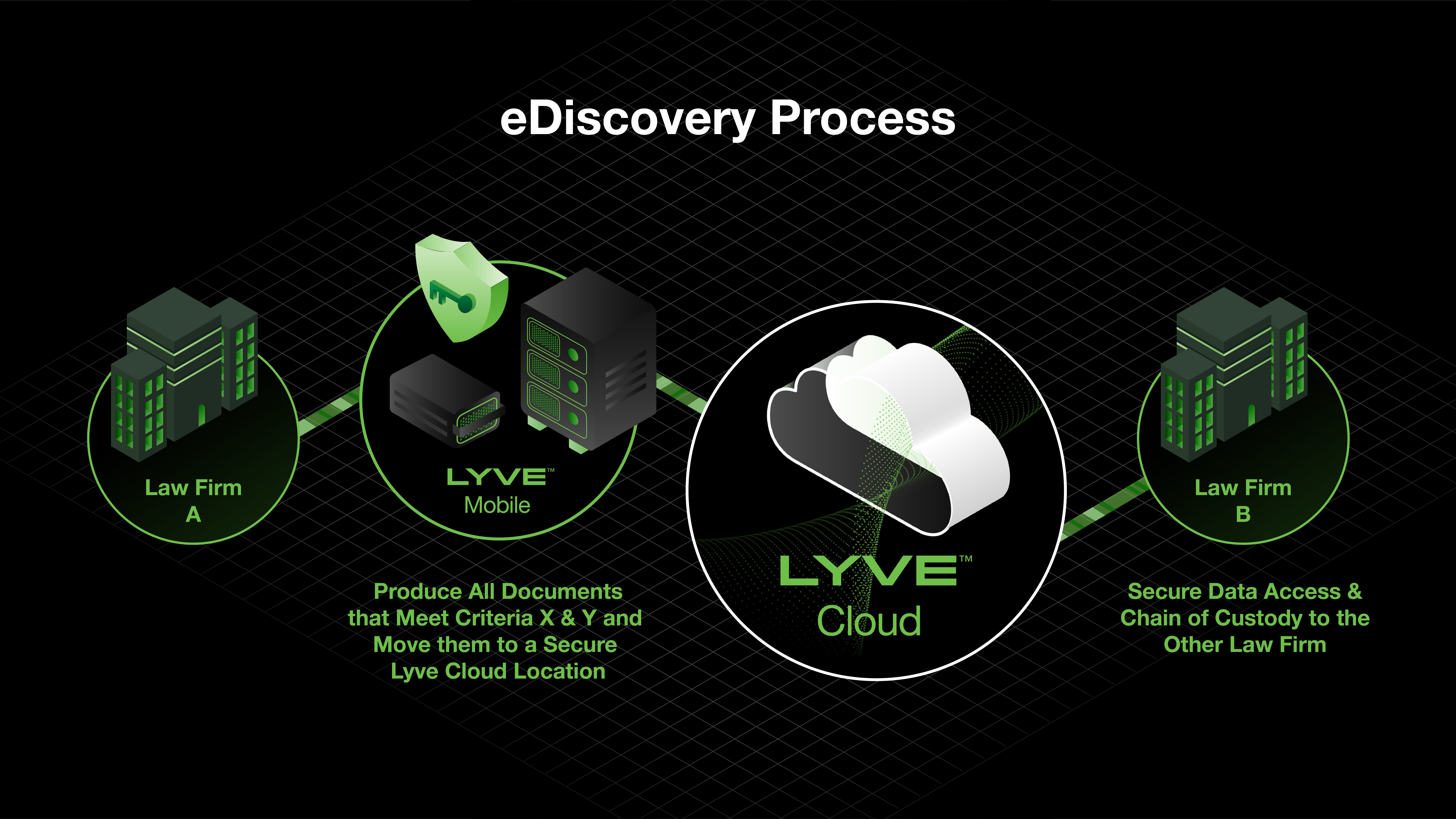 The Lyve ecosystem has been designed with the recognition that no one system fits all. For example, a typical remote user may collect data on a Lyve Mobile shuttle, or data may be directly streamed from cloud or on-premises servers to Lyve Cloud. In all situations, data provenance, chain of custody, and security will always be maintained. This provides a head start on data filtration, setup when hosted in Lyve Cloud for legal processing, review and analysis, and production. Seagate also provides legacy data restoration and preservation services using its Lyve Managed Migration services. The legacy data can be easily hosted in Lyve Cloud and enterprises can run a variety of AI tools to gain insights and draw inferences prior to production to courts or opposing counsel. 
The data remains visible and transparent to the owner throughout the life cycle—whether it's during data streaming using a simple storage service API or while using a Lyve Mobile shuttle—to upload to Lyve Cloud. The entire Lyve ecosystem is harmonized and can offer data access almost immediately without the need for further system requirements.   
The entire Lyve  storage platform eliminates any uncertainty regarding data transfer and data hosting, offering assurance against data pilferage while conducting eDiscovery in pressing litigations and in all data governance scenarios.  
Click here to learn more about Lyve.