It goes without saying—every video surveillance system needs efficient and reliable data storage. But that is not to say every video system requires large-scale, shared network storage to function optimally. High-performance video appliance NVRs built for video capture, analysis and recording often adequately support many small- to mid-size video surveillance environments. However, there are installations where a Storage Area Network (SAN) infrastructure brings new and needed levels of flexibility, scalability and protection.
Enterprise-class surveillance environments utilize large numbers of high-resolution cameras and extended video retention times, often 30-90 days, thus requiring a storage solution that is more robust and expandable than traditional NVRs. SAN is an optimal alternative. Here's why.
What is SAN?
At a certain point in an enterprise surveillance deployment's growth, the capabilities and cost-effectiveness of a typical NVR solution are simply exceeded. SANs offer a more robust architecture that has the ability to scale over time, making it an excellent fit for a security application that needs room to expand, as business grows, and camera technology evolves.
A SAN enables enterprise-level security deployments to integrate multiple recording appliance (NVR) units into one shared storage network, using iSCSI or Fiber Channel connectivity through a network switch. All this happens at the block level for video recording and data accessibility, such that the recording appliances will register the storage allocated by the SAN as if it were directly connected. This way, the file system is maintained by that recording appliance. By using a SAN, all servers can access the storage network as a shared resource. This guarantees speed, efficiency, and simplified data management.
As surveillance infrastructure increases, storage systems or expansion units may be easily added over time to increase capacity, without an administrator having to re-architect the camera to NVR network. SAN architecture allows for greater flexibility to change VMS software or upgrade hardware without heavy lifting. SAN systems can also increase redundancy, eliminating a single point of failure often characteristic of simple NVR only environments.
Examples of Enterprise-Level Surveillance Deployments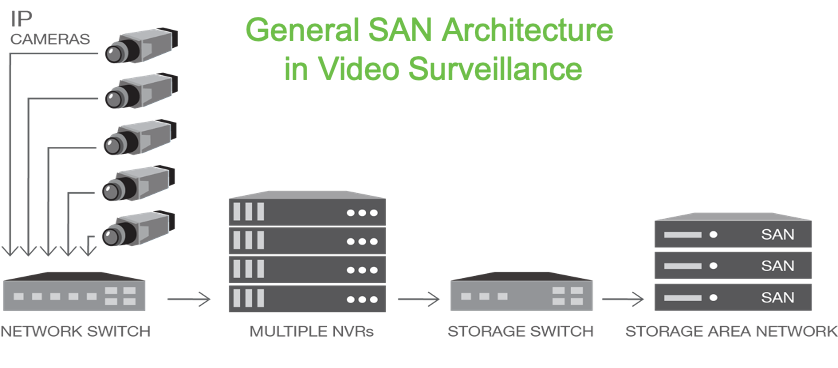 Customers who use SAN architecture come in all shapes and sizes. Here are three examples of surveillance environments where customers should consider using a SAN:
High Camera Count Applications: These applications include deployments that utilize more than 500 cameras in a single location or across multiple sites. A notable example is Walmart's "Missed Scan Detection" program, which uses "computer vision technology to monitor checkouts and deter potential theft" in more than 1,000 stores, the company confirmed to Business Insider. The Missed Scan Detection surveillance program uses AI-enabled cameras to identify and correct checkout scanning errors and failures. The initiative uses of tens of thousands of cameras across Walmart stores, recording and analyzing video data in real time.
Extended Archival Applications: Other deployments feature mid-range camera counts, anywhere from 100 to 300 cameras, but require extended archiving to meet compliance regulation. If a standard deployment stores video for 30 to 90 days, an extended archive application may require 90 to 365 days, such as the New York Police Department. In 2017, the NYPD rolled out body-worn cameras to 1,300 police officers in 20 precincts across the city, according to NYC.gov, then to all uniformed patrol officers in February of 2019. The total city-wide camera count amounts to approximately 20,000. Because the department retains all video recordings for 18 months, this creates substantial video storage requirements.
High Data Availability Applications: These applications often have mission-critical operations that require 24/7 surveillance for "always on security." Toronto's International Airport security system, for example, supports 10,000 fixed and pan-tilt-zoom video surveillance cameras, all outfitted with advanced video content analysis (VCA) software that analyzes video streams in real time, according to Canadian Security—all on one video management system. This system requires continuous access to both video streaming and storage at all times.
At the end of the day, these three surveillance environment examples are unique; but SAN is optimized to effectively and reliable manage video storage for all of them.
Recommended Solution
Not all SAN storage options are the same. It matters that enterprise customers partner with manufacturers with a track record of success. A prime example is Arxys—whose data protection and data analytics appliances are purpose-built for video surveillance—and Seagate Technology—whose enterprise storage systems are optimized for demanding workloads and scalability. Arxys and Seagate have recently come together to deliver a SAN storage option specially designed for large enterprise video surveillance customers.
Specifically, Arxys' DataX Prime X584E solution, which uses the Seagate Exos X 5U84 system, is built to support up to 1.3 petabytes (PB) of data in a single 5U enclosure. Users can easily accommodate data proliferation and expand the solution by adding three additional Exos X 5U84 systems for a total capacity of 4PB. Designed for advanced throughputs and read/write capabilities and up to 99.99% availability, this solution is ideal for demanding streaming environments and built for accessibility and scalability.
The Data X Prime X584E solution also features Seagate's Advanced Distributed Automatic Protection Technology (ADAPT), which is based on parallel architecture that employs intelligent analytics to anticipate and respond to potential system failures. Put simply, ADAPT ensures data is dispersed across multiple drives, allocating more resources for rebuilds. This shortens the time needed for rebuilds, reduces the risk of data unavailability, and minimizes system downtime for customers. As a result, ADAPT can eliminate up to 95 percent of performance degradation during a disk drive rebuild when compared to traditional RAID solutions. Additionally, for heightened data protection, the Data X Prime X584E solution also includes Seagate Secure™ cybersecurity features, which satisfy both Federal Information Processing Standards and Trade Act Agreement requirements.
Going Forward
In a world where data is becoming increasingly complex, consider deploying a SAN option to enhance recording throughput, simplify data management, and future proof your system. To get the most out of your surveillance system, choose storage partners whose technology is engineered to lower the total cost of ownership.