Mighty Car Mods purchased four dozen Seagate IronWolf® hard drives over several years, along with an SSD DAS system. The YouTube showrunners also recently implemented an Exos® AP 2U12 system.
Seagate's Exos AP 2U12 Storage Server provides high-performance computing and cutting-edge mass storage in a single system. It features 12 high-density drive slots along with superior controller attributes, features, and performance for space-efficient deployments.
As they installed these new solutions, the Mighty Car Mods team made additional infrastructure improvements, including a shift to small form-factory pluggable (SPF) interfacing for some of the team's longer runs, as well as new copper for client machines. 
Once he filled the consumer-grade NAS full of Seagate IronWolf drives, Mulholland said he achieved a level of usability that verified he was on the right track. He no longer had hardware issues with speed or drive durability, but instead was hitting network throughput limits or software limitations, as the implementation of SMB was a little shaky, causing network shares to drop out.  
"I've been purchasing Seagate drives for over a decade," Mulholland said, "originally for their speed, which is required for editing 4k video, and then stuck with them due to never having a failure. Or, when one was imminent, (there was) plenty of warning and a backup strategy in place to fix the issue."
The Mighty Car Mods team says they've maintained a good relationship with their Seagate team in Australia.
"They first got in touch after we did some behind the scenes' of our tech setup," Mulholland said, "and suggested a few products that could help. At that stage, we had some edit suites with direct attached storage. Seagate offered me some high-capacity SSDs, which I put in a RAID array that was the fastest storage system we had used to date, and it ran successfully until we made the switch to server-based editing. From there, we stayed in touch and, when I explained I had made the switch to a NAS system for editing, not just backup, the team asked if I'd like to try out one of their Exos 2U12 systems."

At one point, the Mighty Car Mods team considered an alternative, full DIY solution. However, it would have required additional time to learn, from the inside out, how best to set up such a system and, at the level of required storage and performance, they knew going that route would be comparatively expensive. They also looked at vendors who make editing hardware and software packages that are aimed squarely at people in their same situation. Mulholland admitted that, while they looked promising, when he dug a little deeper, he saw that the hardware itself was quite basic. 
"I wanted a solution that was more flexible and could grow as my needs did," Mulholland said, "without being hit hard for 'extras' that are mostly part of a profit structure rather than real-world costs of software parts."
Mulholland considers their implementation to be fairly straightforward. He required that the solution host SMB shares to which the team's Apple OS-based systems could connect. The intent was that the server would store the video and audio, as well as the libraries themselves that the editing software uses, resulting in the ability for any workstation to open a library, without needing to hunt for files, reconnecting, or time wasted chasing broken links. 
As part of this storage upgrade project, Mulholland found he was going back to the basics of his network infrastructure itself. 
"I'd been upgrading parts of this network over the years as my needs changed," Mulholland said, "and the Exos system could slot into it without too much fuss."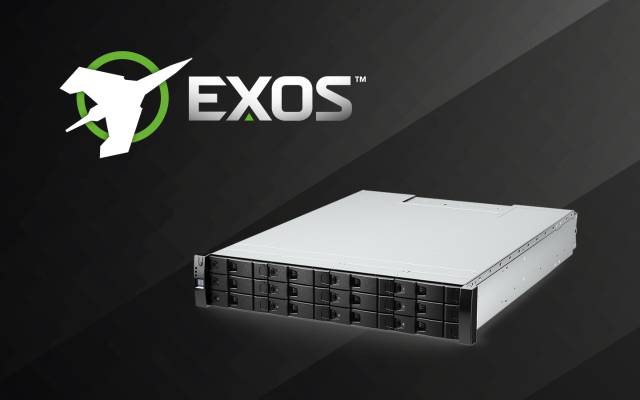 This then allowed for seamless setup of their storage-integrated, assignment of IPs, additions of pools, volumes, and shares, then users, and then Mulholland felt he could "just leave it on forever."