Note: If you would prefer a video guide instead, please click the thumbnail below.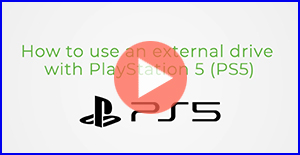 External drives on USB Hubs and External Drives with USB Hubs built-in are not compatible with PlayStation 5 (PS5). This includes the following Seagate products:
Backup Plus Hub
Backup Plus Hub for Mac
FireCuda Gaming Hub
FireCuda Gaming Dock
Game Drive Hub for Xbox
Drive must meet PlayStations requirements:
SuperSpeed USB 5 Gbps or later.
250 GB minimum, 8 TB maximum capacity
What can an external USB drive be used for on my PlayStation 5?
Storing PS5 games on the drive

Games will need to be moved back to internal storage for PS5 to be played

Playing PlayStation 4 game directly from the drive
Store media on the drive

Drive needs to be formatted exFAT
Make sure the media is stored in folders
IMPORTANT:
You can't connect the drive through a USB hub
USB storage is not compatible with the USB Type-A port on the front of your PS5

USB Type-A storage must use the rear port

Two or more USB extended storage drives can't be connected at the same time
To avoid data loss always safely remove the USB drive
Drives that were setup for extended storage will need to be reformatted to be used on Windows or macOS
For more information see PlayStation's official documentation: